The first female Marine students arrived at School of Infantry-West to begin the first phase of Marine Combat Training on Camp Pendleton on March 6.
Do you have a child getting married in the next two months? We're looking for a military father (currently on deployment) with a son or daughter getting married before May 1. We want to fly dad home early as a surprise and...
A 2016 Rancho Bernardo High School graduate is part of the Navy's finest aviation fighter training facility in the world.
Giveaways
Filmmaker Jordan Peele, in conjunction with Universal Pictures, today announced free screenings of Universal's "Get Out" on Presidents' Day, Feb. 19, at 55 AMC locations nationwide. Each guest who requests a ticket the day of...
Marvel Studios will be releasing "Thor: Ragnarok," the God of Thunder's third installment in the Marvel Cinematic Universe, electrifying both audiences and critics alike reaching more than $845 million at the...
Coming to Blu-ray/DVD and Digital HD along with STX Films and Universal Pictures Home Entertainment is the return of our favorite ladies to show us how to be part of "A Bad Moms Christmas." The holidays have arrived and Amy...
Movies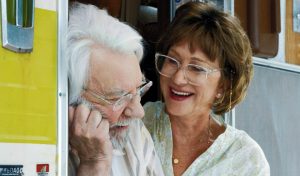 Coming to theaters from director Paolo Virzi and Sony Picture Classics is a film about the journeys we sometimes need to take to appreciate our lives with "The Leisure Seeker." Stopping to check on her parents, Jane Spencer...


Books
"The Third Victim" by Phillip Margolin is the first in a new series. Margolin is back with his expertise of legal suspense crime novels. What makes his books interesting is the ability to intertwine facts about the justice...