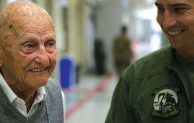 His weathered hands, aged by war and time, brushed across the fuselage of an aircraft. Like a gust of wind, old memories washed over him.
In the last 12 months, nine Marines from 1st CEB saved the lives of three people in completely separate events in our community.
No, this isn't an advertorial. This is just my experience shopping at ALDI supermarket. My wife and my three daughters abhor grocery shopping, so this task has been left to me for the past 30 years. Don't get me...
Giveaways
Academy Award winner Gary Oldman and Golden Globe nominee Jessica Alba star as serial assassins in Killers Anonymous, available on Blu-ray™ (plus Digital), DVD, and Digital on August 27 from Lionsgate....

Coming to Blu-ray, DVD and digital from Walt Disney Home Entertainment is the classic story of "Cinderella." This anniversary edition is from the Walt Disney Signature Collection, which means the story is brilliant, the color...
So, we have a fantastic giveaway! It's fantastic in that not only are we offering up "Us" on Blu-ray — BUT ALSO a copy of "Get Out" as well. All thanks to the folks at Universal Pictures Home Entertainment. Email...
Movies
Currently on Netflix with its continuing story is the highly successful and long awaited STRANGER THINGS Season 3. It is 1985 and Hawkins has fallen to shopping malls causing the shops in town to begin closing. The Starcourt...

Books
Rogue Strike by David Ricciardi is relevant to the headlines. Many of today's current events, written about a year ago are coming true in the real world. After reading this suspenseful novel, readers will...