Nearly 100 Sailors volunteered to help improve the site at the EarthLab, an outdoor dynamic learning center, Oct. 13, during a community relations project.
Vice Adm. John D. Alexander relieved Vice Adm. Nora W. Tyson as commander of U.S. 3rd Fleet during a change of command and retirement ceremony held aboard the aircraft carrier U.S.S. Theodore Roosevelt at Naval Air Station...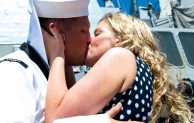 Sailors aboard Arleigh Burke-class guided-missile destroyer U.S.S. Sterett concluded a five-month deployment to the Indo-Asia-Pacific region, returning to the ship's homeport of San Diego, Aug. 28.
Giveaways
The GI Film Festival, sponsored by KPBS, kicks off Oct. 18 and we've got passes to screening events throughout the festival! For a chance to win some, use the form below.
From Disney and Jerry Bruckheimer Films comes "Pirates of the Caribbean: Dead Men Tell No Tales" — the fifth film in the now-iconic "Pirates of the Caribbean" film franchise — sailing home on 4K Ultra...
As a token of appreciation to our men and women in uniform, Warner Bros. Pictures is offering all military personnel — both active duty and retired — a free ticket to Christopher Nolan's acclaimed epic "Dunkirk" with the...
Movies
Yes, the GI Film Festival is here again, and it is bringing the best films about the military world. Here is some of what you will see from Oct. 18 till Oct. 22 from filmmakers with a story to be told. On Oct. 18, the Opening...
Books
"The Woman Who Couldn't Scream" is a classic Christina Dodd novel. Her heroines have some handicap, yet are determined while facing adversity. They fight to take control over their lives. This installment of the Virtue Falls...