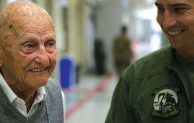 His weathered hands, aged by war and time, brushed across the fuselage of an aircraft. Like a gust of wind, old memories washed over him.
In the last 12 months, nine Marines from 1st CEB saved the lives of three people in completely separate events in our community.
No, this isn't an advertorial. This is just my experience shopping at ALDI supermarket. My wife and my three daughters abhor grocery shopping, so this task has been left to me for the past 30 years. Don't get me...
Giveaways
Star Wars: The Rise of Skywalker, Lucasfilm and director J.J. Abrams' riveting, inspiring conclusion of the seminal Skywalker saga, arrives on Digital March 17 and Blu-ray March 31. The in-home release comes with over two...

MIDWAY is being released by Lionsgate Home Entertainment — Digital Code. On Digital from director Roland Emmerich and Lionsgate Home Entertainment is the epic story of MIDWAY. We are absolutely thrilled to announce...

Coming to Disney Home Entertainment is the second installment of a different fairy tale with MALEFICENT Mistress of Evil. We have 5 digital codes and its very simple to win one of your own. Email hellomoviemaven@aol.com...
Movies
During this time the studios are jumping in and making entertainment easier for those who are sheltering in place right now. So, we have codes to giveaway for the following films and, just so you know, if you don't get a...
Books
The Boy From The Woods Harlan Coben Grand Central Publishing March 17th, 2019 The Boy From The Woods by Harlan Coben has many ingredients to it. It touches on politics, power, romance, bullying, guilt,...