Honoring both active duty service members and veterans alike, the San Diego County Department of Parks and Recreation is hosting its annual Warriors Hike Challenge on Nov. 10 in celebration of Veterans Day. Active duty...
On April 1, 1945, the Battle of Okinawa began as U.S. Marines and soldiers made their way to the Ryukyu Islands, including Okinawa.
Huey Lewis and the News launched their first album in 1980, and with the release of their third album, "Sport," in 1983, Huey Lewis and the News became pop icons and a mainstay on the MTV video rotation (when MTV used to play...
Giveaways
Summit Premiere and Millennium Media present is releasing "Hunter Killer" on Oct. 26, but of course we have your FREE screening on Wednesday, Oct. 24, at AMC Mission Valley, at 7 p.m. Download your free passes (for two) for an...
"Jurassic World: Fallen Kingdom" is a 2018 American science fiction adventure film and the sequel to "Jurassic World" (2015). Directed by J. A. Bayona, it is the fifth installment of the "Jurassic Park" film series, as well as...

Lucasfilm's "Solo: A Star Wars Story," directed by Academy Award — winning filmmaker Ron Howard — the creator of many unforgettable films took moviegoers on this summer's wildest ride with the most beloved scoundrel in the...
Movies
Coming to Blu-ray/DVD and Digital in time to ring in the New Year from director Malcolm D. Lee and Universal Pictures Home Entertainment is a life lesson for us all while attending "Night School." Teddy (Kevin Hart) is a man...
Books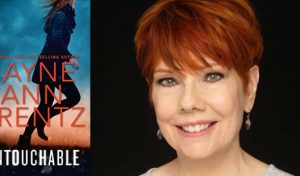 "Untouchable" by Jayne Krentz is the finale in the Cutler, Sutter and Salinas series. It intertwines a good mystery, suspense and a little romance, while delving into the world of mind control through lucid dreams and...