---
Giveaways
ARE YOU READY? ​We have Fandango tickets to give away and all you have to do visit http://moviemaven.homestead.com to find out how to get yours. We will choose several winners!  ​Snake Eyes: G.I. Joe Origins stars Henry...
That's right, we have a copy of the fun, adventure and a story of a man who stays a NOBODY. Bob Odenkirk from Better Call Saul fame is back as Hutch Mansell, a man who lives his life in a routine day by day. That is...
The first five people who answer the question correctly with the exact wording will receive a San Diego Padres military cap. The answer can be found in the interview with San Diego broadcaster Mark "Mud" Grant....
Movies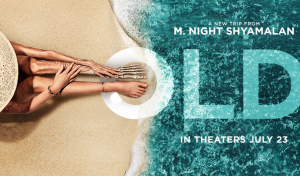 Jeri Jacquin Coming to theatres from writer/director M. Knight Shyamalan and Universal Pictures based on the graphic novel "Sandcastle" by Frederick Peeters is the tale of OLD. On a family vacation in what looks...
Books
Shadow Target Jake Keller Book 4 David Ricciardi Berkley pub June 15th, 2021 Shadow Target by David Ricciardi brings to life the patriotic hero Jake Keller. The story delves into the influences of money, power, and...