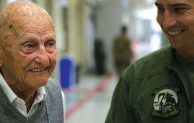 His weathered hands, aged by war and time, brushed across the fuselage of an aircraft. Like a gust of wind, old memories washed over him.
In the last 12 months, nine Marines from 1st CEB saved the lives of three people in completely separate events in our community.
No, this isn't an advertorial. This is just my experience shopping at ALDI supermarket. My wife and my three daughters abhor grocery shopping, so this task has been left to me for the past 30 years. Don't get me...
Giveaways
Coming to Blu-ray, DVD and digital from Walt Disney Home Entertainment is the classic story of "Cinderella." This anniversary edition is from the Walt Disney Signature Collection, which means the story is brilliant, the color...
So, we have a fantastic giveaway! It's fantastic in that not only are we offering up "Us" on Blu-ray — BUT ALSO a copy of "Get Out" as well. All thanks to the folks at Universal Pictures Home Entertainment. Email...
"John Wick: Chapter 3 – Parabellum" hits theaters May 17, but we have tickets to an advanced screening just fo you! Super-Assassin John Wick (Keanu Reeves) is on the run after killing a member of the international assassin's...
Movies
Coming to theaters from director Josh Cooley, Pixar Animated Studios and Walt Disney Pictures brings back our friends for "Toy Story 4." Sheriff Woody (Tom Hanks), Buzz Lightyear (Tim Allen) and the gang are still living with...
Books
"The Unwanted" by Michael Dobbs is a riveting and unfortunately true story of how the world turned their back on Jewish families seeking to escape Nazi Germany. Although many would like to compare it to the current day, the...