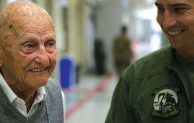 His weathered hands, aged by war and time, brushed across the fuselage of an aircraft. Like a gust of wind, old memories washed over him.
In the last 12 months, nine Marines from 1st CEB saved the lives of three people in completely separate events in our community.
No, this isn't an advertorial. This is just my experience shopping at ALDI supermarket. My wife and my three daughters abhor grocery shopping, so this task has been left to me for the past 30 years. Don't get me...
Giveaways
MIDWAY is being released by Lionsgate Home Entertainment — Digital February 4, and on 4K Ultra HD, Blu-ray & DVD February 18. Coming to Digital on February 4th and 4K Ultra HD, Bluray and DVD on February 18th from...

Coming to Disney Home Entertainment is the second installment of a different fairy tale with MALEFICENT Mistress of Evil. We have 5 digital codes and its very simple to win one of your own. Email hellomoviemaven@aol.com...
From a writer of Madagascar comes this funny, outrageous adventure about a gang of misfit animals on an exciting quest to return a panda cub to its family when a stork accidentally delivers it to the wrong place. We have...
Movies
Coming to theatres this Friday from director William Eubank and 20th Century Fox comes the depths of the Mariana Trench and what is truly UNDERWATER. Deep below the depths is a research laboratory platform that in a minute...

Books
Restless Hearts by B. J. Daniels is the first in a new series and it starts off with a home run. This story has a great murder mystery, some western romance, and family conflict. The plot begins with the heroine,...