---
Giveaways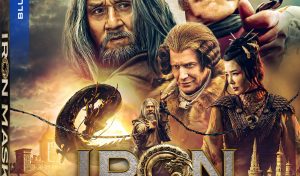 Jeri Jacquin Coming to Blu-ray from Lionsgate Home Entertainment and writer/director Oleg Stephchenko is the story of the IRON MASK. We have two copies of the Blu-ray up for grabs! You know what to do – visit...

Pauly Shore and Steve-O kick this outrageous, raunchy comedy into high gear. When engaged couple Sarah (Aimee Teegarden) and Blake (Mike Castle) buy their dream home, there's a catch: a party animal named Randy (Shore) in the...
One morning, lonely surfer Aidan (Tyler Posey, "Teen Wolf") awakens to find that a global pandemic has turned most of humanity into bloodthirsty zombies. Just as he's ready to give up hope, Aidan spots his attractive neighbor...
Movies
Jeri Jacquin Coming from director Emerald Fennell and Focus Features is the story of a woman on a mission away from being a PROMISING YOUNG WOMAN. Cassie (Carey Mulligan) works in a coffee shop with Gail (Laverne Cox) and is...

Books
The Rancher's Wager (A Gold Valley Book) Maisey Yates Harlequin Pub January 12, 2021 The Rancher's Wager by Maisey Yates will remind readers of a romantic western TV show. People can picture the hero and heroine in a...