---
---
---
Giveaways
May 24th at 7 p.m. at AMC MISSION VALLEY Seating availability and ticketing availability are first-come, first-serve Go to http://moviemaven.homestead.com to find out how to get your tickets! Only in theaters May 26 "The...
​ ​In KANDAHAR, Tom Harris (Gerard Butler), an undercover CIA operative, is stuck deep in hostile territory in Afghanistan. After his mission is exposed, he must fight his way out, alongside his Afghan translator, to an...

The Modern Horror Creature Feature Where "Gremlins meets Straw Dogs" Debuts on Blu-ray & DVD May 9 UNWELCOME A couple escapes their urban nightmare to the tranquility of rural Ireland only to hear stories of mysterious...
Movies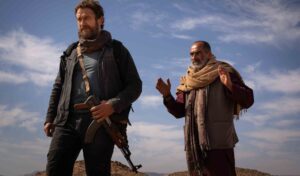 Jeri Jacquin Coming to theatres this Friday from director Ric Roman Waugh and Open Road Films is the story of two men who are running to KANDAHAR. Tom Harris (Gerard Butler) is a slick CIA operative in Afghanistan that has...

Books
Memorial Day should be about honoring those who lost their lives while defending this country. Two books have recently been published that highlights the War in the Pacific during WWII where America fought against Japan. The...