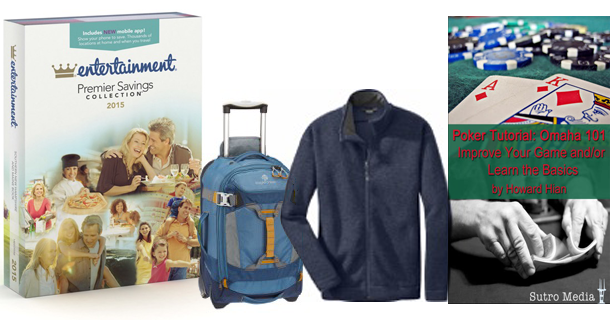 It's that time of year to think about presents.  Here are a few of my favorites.
Head to Toe: Outdoor Research's Exit Cap is stylish and comfortable. It's durable wool/polyester/nylon blend will keep your head warm and dry. www.outdoorresearch.com
Clothing Arts has a couple of super products to keep thieves at bay  (I can attest that they work;  I was "jostled" in the Paris Metro but lost nothing). Their Business Traveler Pants and Pick Pocket Proof Shirt passed the test.  Big pluses; they are easy to wash, dry quickly and look good. www.clothingarts.com  Outdoor Research, OR, scores again on the list with their Exit Jacket. Although it's light weight, it provides as much warmth as a heavier coat.  It features a sleek style, zippered front, fleece base plus several interior pockets for storage.  www.outdoorresearch.com The patented SeV Pack Jacket by Scottevest is more than a lightweight windbreaker.  It provides an extra layer for rain or cold just when you need it.   It packs into itself, is washable and stain resistant and even comes with a built in diagram indicating the location of all 13 pockets. www.scottevest.com I recently spent 21 days in France with two pair of Keen shoes (Marshall WP and light hiking boots) and three pairs of Keen socks (they come marked left and right).  All were up to the challenges of walking five to seven miles a day over cobblestones, across parapets, around fortresses, up stairs, etc.  I'm a big fan; their shoes fit well, are durable, comfortable and look good.  www.keenfootwear.com
Packing It All In:  There are two kinds of luggage; carry-on and lost. Eagle Creek has a full line of quality roll-ons and backpacks.  My recommendations are the Load Warrior Wheeled Duffel 22 and Digi Hauler Backpack.  They are commodious, yet lightweight and sturdy, and come with a lifetime warranty.  To organize your "stuff," consider Eagle Creek's Pack-It System.  www.eaglecreek.com
Odds & Ends: Suntegrity produces a wide range of holistic, natural sun care products that are effective. The broad spectrum SPF 30 sunscreen comes in TSA approved sizes, so packing them in your carry-on is not an issue.  www.suntegrityskincare.com
The Q-Knot is a multipurpose reusable tie that replaces rubber bands and twisties.  They come in various lengths and are ideal for anything that needs bundling.
www.ut-wire.com  The History Channel's Anniversary four set program, 100 Years of WW I, is a comprehensive overview of "the Great War."  It chronicles the development of weapons and warfare that led to 15 million dead and 20 million wounded.  It's a perfect gift for history or military buffs.  www.history.com The Entertainment Book is my perennial choice. It features discounts and promotions for travel, entertainment, restaurants, sports, shopping, services and attractions.  There are many additional promotions, including monthly and weekly web specials, digital options and out-of-town alternatives.  www.entertainment.com  Finally, If anyone on your gift list plays poker, here is a perfect $2.99 present; Poker Tutorial: Omaha 101 – Improve Your Game and/or Learn the Basics.  Google "Poker Tutorial: Omaha 101" for Apple products or "Omaha Poker Sutro" at Google Play for Android to download the app.
Happy shopping, safe travels and enjoy the holidays!
Comments
comments