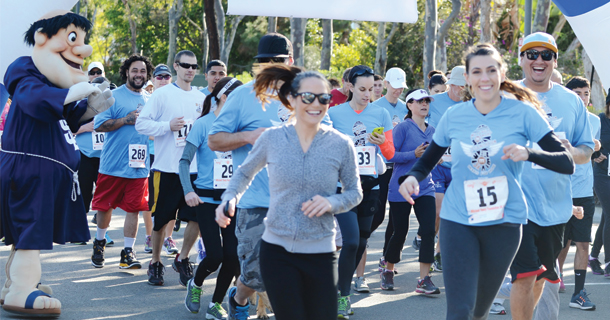 New Course and Family Activities Set the Stage for Exciting 5K in Carlsbad
Sixth Annual event will raise funds for families with children facing life-threatening illnesses, diseases and disorders
The Mitchell Thorp Foundation ("MTF") today announced new features and activities at their annual 5K Run/Walk. A new course and a chip-timed race will interest more runners while new activities, including a Kid Ventures Kids Zone, will make the event even more attractive to families.
Taking place on February 7, 2015 at Poinsettia Park in Carlsbad, the new 5K course will bring runners outside the park, while the chip-timing offers runners a precise measurement of their time. "Our first five events have been extremely successful," noted MTF CEO/Co-Founder, Brad Thorp. "But, we really wanted to provide an even better experience for the San Diego running community. The new changes will accomplish exactly that."
Families have always been a big part of the event, which supports families and children in their greatest time of need. With food, music, health/wellness vendors, and entertainment producing the usual fun atmosphere during and after the race, MTF also made changes to enhance the overall family experience.
"We also wanted to enhance the event for our families and walkers," added MTF Co-Founder Beth Thorp. "The new course will allow everyone to start at the same time, while our walkers can still enjoy the same park loop. And, of course, the children's 1K Fun Run will bring a smile to the faces of all the kids that come out with their families."
Information and registration forms for individuals and teams can be found at mitchellthorp.org
About Mitchell Thorp Foundation
The Mitchell Thorp Foundation (MTF) is a nonprofit organization, commemorating Mitchell's shortened life of 18 years and his five-year heroic struggle against an undiagnosed illness. Mitchell's strength and courage, along with the community's support, collectively inspired the family to establish the MTF that supports families whose children suffer from life-threatening illnesses, diseases and disorders, by providing financial, emotional and resources to their desperate situation. In addition, the MTF provides scholarships and awards to promising young athletes, like Mitchell, acknowledging their accomplishments in youth baseball as a player and role model.
Comments
comments