By Jeri Jacquin | October 31, 2022
Movies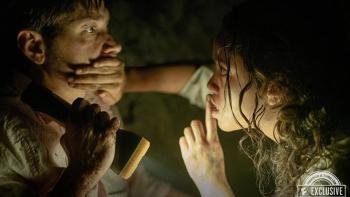 Jeri Jacquin
Currently streaming from director writer/director Zach Cregger and 20th Century Studios is the fear in a house with BARBARIAN.
Tess (Georgina Campell) is coming to Detroit for a job interview going to the Air B&B house she rented in the neighborhood of Brightmoor. Arriving late at night and during a rainstorm, she learns that someone else, Keith (Bill Skarsgard) has also rented the same house on the same dates. Both upset about the situation, there is only one answer, to share the house for the night until they can resolve the situation in the morning.
Over the course of the evening, Tess and Keith discover they have a lot in common and that eases the tension of being around a stranger for her. Sometime in the night, she is woken up by the sound of a creaking door. Going to see if it is Keith, he is asleep which is even more confusing.
In the morning light, Tess sees the neighborhood that is totally derelict and run down. Taking her mind off it, she interviews and is excited about the potential new job. Returning back to the house, a man is running up on her screaming and Tess makes it inside the house in time. Calling for help, it is clear that the police have no interesting in coming to her part of town.
Going into the basement for supplies, Tess discovers an opening that leads into the darkness. At first she is not about to go in but her curiosity gets the better of her. She does not like what she finds and when Keith returns, she tells him all about it. He decides to go down and investigate which brings about a whole new set of horror.
Back in Hollywood, AJ Gilbride (Justin Long) is an actor who is about to have his world blow up. Needing an influx of cash, he decides to go to Detroit and the house he owns. Turns out it is the same B&B Tess and Keith have rented. He arrives to find the house has been used but not cleaned, which makes no sense. Hearing a noise in the basement, he makes his way down and finds more horror and mayhem.
This is no ordinary house and it has no ordinary story!
Campbell as Tess is a strong character (even though she makes seriously stupid mistakes) that is not afraid to fight for her life. She has the 'spidey tingles' but does not trust them once she realizes that what is happening in the house is just plain wrong. I think Tess needs a class on how to recognize HUGE red flags! Well done Campbell.
Skarsgard as Keith is a sweet guy who only seems spooky. It could be because the actor has already freaked out everyone with his gruesome role as Pennywise the Dancing Clown from the IT remake. So you can understand why I am waiting for him to go 'boo!'.
Long as AJ the panicked actor is a mixture of curiosity and comedy. There are scenes where he just needs to run but instead he hangs around and other scenes where he is screaming and for very good reason. He is also a character I'd push off a bridge easy so there is that bonus.
Other cast include Richard Brake as Frank, Kurt Braunohler as Doug, Jaymes Butler as Andre, Sophie Sorensen as Bonnie Zane, Zach Cregger as Everett, Devina Vassileva as the Property Manager and Matthew Patrick Davis as "The Mother".
Twentieth Century Studios brings award-winning global product and new entertainment to DVD, Bluray, and Digital HD. There amazing collection offers fans an opportunity to expand their own home libraries with the best films. To discover what other titles they have please visit www.fox.com.
BARBARIAN is a jumpy thriller that has one yelling at the screen with 'awwww…why are you doing that' or 'are you serious?' and 'oh hell no!'. There are plenty more things to say but there might be kids present. That being said, it is what makes the film kind of really cool.
The focus takes place in the house and on the street without distractions from anything else. That's when the nervousness sets in! I actually leaned over at one point to look into a hallway forgetting that I am not a participant, just an observer. It's a slow ride into the basement and once there, the real story unfolds.
So for the Halloween spooky season, BARBARIAN is the right kind of fright to binge watch tonight after gather up all the ghoulish candy you can lay your hands on. But be very careful, you never know if Mother is lurking in the dark!
In the end – right street just the wrong house!
Comments
comments