By Jeri Jacquin | July 15, 2023
Movies
Jeri Jacquin
Coming to Bluray and Digital from writer/director Jim Strouse and Sony Pictures Home Entertainment comes the story when it is time to LOVE AGAIN.
Mira (Priyanka Chopra) is a children's book writer and struggling to deal with the death of her fiancé John. Sister Suzy (Sofia Barclay) is doing everything possible to break her out of a low and get back to work. Even her editor Gina (Celia Imrie) is becoming impatient for the next book.
Rob (Sam Heughan) is a music writer who is also in a funk. Seems his ex-girlfriend has moved on with her life perfectly leaving Rob to do a little phone stalking. Of course, that means he hasn't been writing much to the irritation of his boss Richard (Steve Oram). So, he is given the assignment of interviewing Celine Dion (Celine Dion).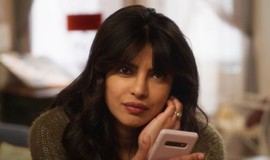 Trying to find an outlet, Mira begins texting John's phone number pouring her heart out about life and feelings. The odd thing is, that phone number has been reassigned to Rob and the texts are at first ignored but then Rob finds himself waiting for them to come. He shares it with fellow writers Billy (Russell Tovey) and Lisa (Lydia West).
In a twist, Celine Dion decides to quiz Rob on what could he possibly know about love when he questions her love song lyrics. That sets the wheels in motion for Rob discovering who could be sending the messages and a trip to the opera sets the romance wheels in motion.
Once Rob and Mira realize they like each other, Rob must find a way to come clean about the texts without losing her. Celine Dion might be able to help with that.
Chopra as Mira is a lovely character as a woman who loved deeply and has fallen into a state that isn't healthy. A writer of children's book, it is no surprise that she would write/text to help clear a way to move forward after John's death. Chopra gives her role charm, grace, a few giggles and a lot of love which is nice.
Heughan as Rob is a man dealing with his own love loss trauma and his choice is to just shut down a bit. Reading the texts and meeting Celine Dion, he slowly opens up to the possibility. Meeting Mira, Rob goes from hope for love to a 'now what?' being afraid of losing someone so fantastic. Now, Heughan has shown he clearly knows how to be the romantic, if you have seen the STARZ series OUTLANDER you know, if you haven't then WHY NOT?! He does not disappoint in the character of Rob, equally as charming as Chopra.
Barclay as sister Susy is hilarious and looking out for the heartbroken Mira. Tovey as Billy is interested in what is happening with the texts and tortures Rob when he can. West as Lisa is equally as hilarious and charming. Oram as Richard has one of the best scenes when chewing out Rob – a must laugh moment!
Other cast include Omid Djalili as Mohsen, Nick Jonas as Joel and Arinze Kene as John Wright.
Sony Pictures Home Entertainment encompasses motion picture production for television, digital content and theater releases. The studios include Columbia Pictures, Screen Gems, TriStar Pictures, Sony Pictures Animation, Stage 6 Films and Sony Picture Classics. To see what is coming to theaters and to home entertainment please visit www.sonypictures.com.
MOVIES ANYWHERE gives viewers the ability to download the Movies Anywhere App. With that you can view films by downloading or streaming to your favorite device using a Digital Code. For more information on Movies Anywhere please visit www.MoviesAnywhere.com.
Special Features included on Bluray, Digital and DVD are Finding Love Again and 6 Deleted Scenes.
LOVE AGAIN is not a new formula for a romantic comedy but it works none the less. Two people looking for love after heart break, it makes sense that texting would eventually make its way into the mix. Chopra and Heughan make a very cute film couple because neither is malicious, just wary of letting go of old pains.
The entire film is charming to the last and it will end the way one would expect it to. That's what I mean by 'formula'. Sadness gives way to a bit of comedy and fun until the heart gets involved and then its bound to go in a bunch of different directions until it circles back to the heart. Cute right?
Shout out to Celine Dion, who wins the award for top charmer of the film. She comes in to give Rob a bit of a lesson on why he might want to perhaps listen to a few love songs. I just love how natural she seemed in the role but, then again, love is close to her heart within her own real life.
In the end – it is winning of hearts!
Comments
comments