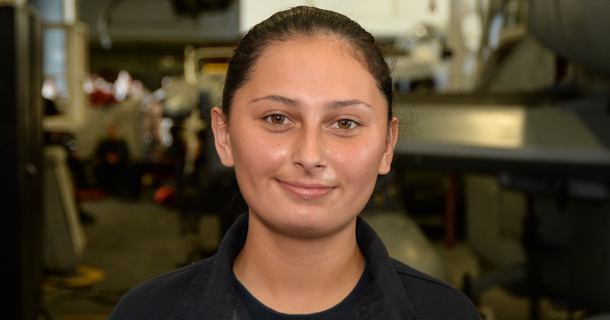 Seaman Jessica Stewart, from San Diego, a graduate of Little Axe High School, enlisted into the Navy just 10 months ago and is currently stationed aboard the amphibious assault ship USS Makin Island (LHD 8), which is deployed to the U.S. 5th Fleet area of responsibility.
"I was inspired by my family," said Stewart. "I have a lot of relatives who also served in the Navy."
Stewart listed a few of her relatives that served including her grandfather, who retired as a Senior Chief Hospital Corpsman, her father, who retired as a Chief Aviation Structural Mechanic, and her two brothers, who both served an enlistment of at least four years.
Stewart works in Makin Island's Deck department. She is responsible for participating in many shipboard evolutions such as ship preservation, manning the boat deck, and the ship's sea and anchor detail.
"I like being able to help moor the ship to the pier when we pull into port," said Stewart.
Stewart explained that her favorite thing about working in Deck department is the camaraderie between her and her shipmates.
"My department has a huge variety of people from different parts of the world and different experiences," said Stewart. "Getting to know all of them has been cool. We all look out for each other. We're like a family."
Stewart is serving on her first deployment contributing to Makin Island's mission of helping to promote peace and freedom of the seas in support of the Navy's maritime strategy. Makin Island has conducted port visits to Hong Kong and Singapore where Stewart and other Sailors and Marines were able to venture, sight-see, and participate in tours and community relations projects.
"Both ports were awesome," said Stewart. "Seeing all the different culture such as the Buddha Temple and the way they drive on the left side of the road was interesting."
Stewart said she is looking at the Navy as a career and hopes to one day make it to the rank of Chief Petty Officer.
The Makin Island Amphibious Ready Group (ARG) and the embarked 11th Marine Expeditionary Unit (MEU) are deployed in support of maritime security operations and theater security cooperation efforts in the U.S. 5th Fleet area of responsibility.
For more news from USS Makin Island (LHD 8), visit www.navy.mil/local/lhd8/.
"Why Being There Matters"
On our planet, more than 70 percent of which is covered by water, being there means having the ability to act from the sea. The Navy is uniquely positioned to be there; the world's oceans give the Navy the power to protect America's interests anywhere, and at any time. Your Navy protects and defends America on the world's oceans. Navy ships, submarines, aircraft and, most importantly, tens of thousands of America's finest young men and women are deployed around the world doing just that. They are there now. They will be there when we are sleeping tonight. They will be there every Saturday, Sunday and holiday this year. They are there around the clock, far from our shores, defending America at all times.
Thank you very much for your support of the men and women in U.S. Navy, deployed around the clock and ready to protect and defend America on the world's oceans
Comments
comments