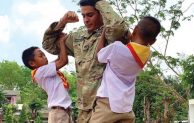 U.S. Army Reserve Sgt. Antonio Martinez smiles as he lifts two playful elementary school students into the air at the Ban Wang Mai Daeng School in Chanthburi Provence, Thailand.
Commemorates Battle of Midway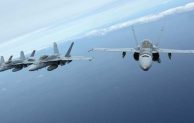 In an extraordinary display of raw power, military might and operational readiness, ground and air crews from Marine Aircraft Group 11, 3rd Marine Aircraft Wing, launched more than 35 aircraft near simultaneously.
Giveaways
Disney Home Entertainment is releasing "Marry Poppins Returns" on Digital 4K Ultra HD and Movies Anywhere on March 12 and on 4K Ultra HD and Blu-ray on March 19. Luck for you, we have digital codes to give away! All you have...

Currently on digital with Movies Anywhere is Disney's highly anticipated return of our favorite big guy with "Ralph Breaks the Internet." We have five digital codes to give away, and if you'd like to be a lucky winner please...

Peter Jackson's "They Shall Not Grow Old" hits theaters Feb. 3, but we have tickets to an advanced screening just for you! This acclaimed documentary is an extraordinary look at the soldiers and events of the Great War, using...
Movies
Coming to theaters from director Sebastian Lelio and A24 comes the story of a woman trying to find her place with "Gloria Bell." Gloria (Julianne Moore) is a divorced 50-something woman who is trying to find her way. Escaping...

Books
"The Victory Garden" by Rhys Bowen brings to life women's roles during World War I. As with her other historical novels she beautifully blends in historical facts, likable characters, and a mystery. Emily Bryce meets...