By Jeri Jacquin | June 16, 2023
Movies
Jeri Jacquin
Coming to theatres this Friday from writer/director Peter Sohn, Pixar and Walt Disney Studios is a story of opposites attracting with ELEMENTAL.
Born of immigrant parents Bernie (Ronnie del Carmen) and Cinder (Shila Ommi) Lumen, the couple anxiously awaits the arrival of flame daughter Ember (Leah Lewis). Finding a place to live and start their own business, the Lumen's are living the Elemental dream. Dad Bernie wants nothing more than for Ember to learn the family business so that one day he can retire and she can take over. The problem is Ember has a problem with her temper. So much so that during an anger outburst, she causes the pipes to start leaking!
Having been raised that fire does not mix with the water-folk who live in Elemental City, Ember is surprised when Wade (Mamoudou Athie) appears. He is one of the water people who is a building inspector and immediately starts writing tickets for building violations. Ember tries to stop him and when it looks like it's too late, Wade decides he wants to help Ember. Meeting with Wade's boss Gayle (Wendi McLendon-Covey), she tells them both that if they discover where the water is coming from, all the tickets will be forgiven.
The chase is on and in the meantime Ember is feeling something for Wade but doesn't know how to handle it. Wade doesn't hold anything back as he wants to spend more time with the fiery Ember. They both begin to discover that all the myths they have been raised with don't seem to apply and Wade has no problem showing his emotions.
Mom Cinder begins to suspect that something is going on with Ember and believes she has found love. The problem is that Dad Bernie is not going to accept Wade because he sees the inspector as someone who is not like the Lumen's or the people of their section of Elemental City. Thinking the water problem has been solved, it not become more important than ever to work together to solve the problem once and for all.
After all, it's only elemental!
Lewis as Ember is an on fire young adult who has been struggling to make her father proud enough to hand over the family business. Her problem is that she cannot control her temper and it has finally gotten her into serious trouble. Lewis offers us her voice to give Ember personality of fire that is so fun, lovely and full of trouble both good and not so good. I really enjoyed her.
Athie as Wade is a young man who has fallen in forbidden love and it comes from a place of pure and honest emotions. Of course, he comes from a family that seems to embrace being too emotional ad it is something that Ember is fascinated by. Athie lends his voice to a character full of love, charm, humor and everything a flame could ask for.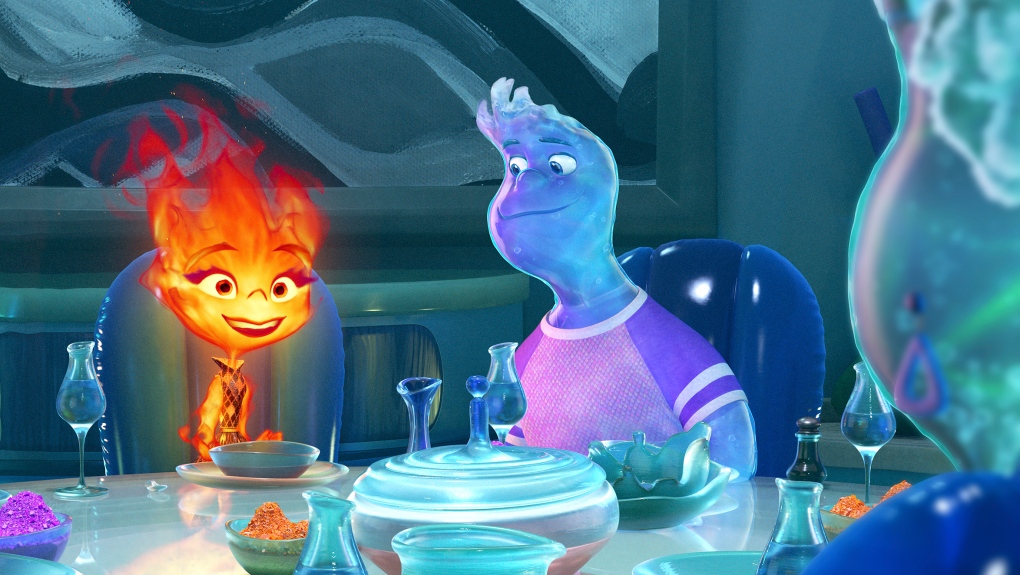 Del Carmen as dad Bernie tries to be so patient with his daughter and constantly brags about how close she is to taking over the family business. Coaching her on how to handle customers and make it work is important. Especially since he came from a faraway land and a family that didn't support Bernie's decision to come to Elemental City. Del Carmen gives us a father who loves his daughter and a pride in the life he creates for his family.
Ommi as Mom Cinder keeps an eye on the family but also has a side job helping people find love. She realizes that something is going on with Ember and is determined to discover what she is up to. There comes a moment when she reads her daughters smoke (you'll understand when you see the film) and I just love that whole scene. It shows the courage and determination of love.
Shout out to McLendon-Covey as the big puff ball Gayle. She is tough as nails, stronger than anyone takes her for and compassionate in a way that was just amazing. The voice matches the character perfectly and I just loved her. I hope they have a Gayle stuffed puff ball because I would definetly be in line for one.
Other cast include Clara Lin Ding and young Ember, Regan To as teenage Ember, Mason Wertheimer as Clod, Ronobir Lahiri as Harold, Wilma Bonet as Flarrietta, Joe Pera as Fern Grouchwood, Matt Yang King as Alan Ripple as well as Lutz and Earth Pruner, P.L. Brown as the Doorman, Jonathan Adams as Flarry, and Catherine O'Hara as Brook Ripple.
Walt Disney Studios continues to bring quality programming to kids and kids at heart. Home of the most beloved animated features including SNOW WHITE, PINOCCHIO and SLEEPING BEAUTY to name a few is what keeps families coming back for more. For more on Disney please visit www.movies.disney.com.
Pixar Animation Studios is an American computer animation studio known for its critically and commercially successful computer animated feature films. These iconic films include the TOY STORY, MONSTERS INC., THE INCREDIBLES, NEMO/DORY, and CARS franchises as well as UP, RATATOUILLE and BRAVE. For more visit www.pixar.com.
The language in the film was fascinating and I discovered it was created by the same man who gave us the Dothraki language from the HBO hit series GAME OF THRONES, David J. Peterson. He is also known for his creating language for THE WITCHER, THOR: The Dark World and RAYA AND THE LAST DRAGON all of which are impressive films. Director Peter Sohn said, "We had a language made as well from David Peterson and they have this amazing, brilliant team trin to take fire, like the fireplace sound effects and make a language out of it."
ELEMENTAL is a charming, delightful, emotion tugging, funny and extremely colorful film that will steal your heart from beginning to end. The story of immigrant parents starting a new life is so wonderful to see because it showed their struggles from the very beginning. Yet, it also gives us the story of Ember's arrival and the life of the Lumen from then on. The film shows us how a family works together and support one another even though it may look different to someone else.
Having Ember and Wade be from two different worlds, one would never expect that someone would come along and write a script that disproves that theory. Yes, there may be some bubbling and calming of a strong fire, but love can even both of those things out. Taking my 8-year-old granddaughter to see the film, she was ohh'ing and awwwww'ing through the whole film. When Ember and Wade were on the screen together, she was hugging me tightly on my arm and looked at me with such a big smile. That's how I knew that this film had something special.
That is an amazing thing to happen for a film but I couldn't help but believe that she wasn't the only one who felt this way. You could have heard a pin drop in the theatre during the film because it captured everyone from the moment it started till the end when people with their children actually stayed during the credits laughing at the drawings. That is just plain impressive.
In the end – opposites react!
Comments
comments