By Military Press | March 19, 2015
R & R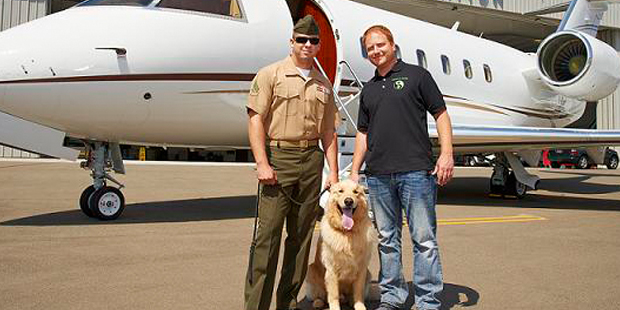 Corporal James Norvell and his service dog Ty with Shelter to Soldier Founder, Graham Bloem at Schubach Aviation
---
Shelter to Soldier will be the recipient of funds raised from the 4th Annual Spring Xposure Fashion Show Event hosted by FINE Magazine and Schubach Aviation on Thursday March 26, 2015, at Cielo Village in Rancho Santa Fe, from 5:00 p.m.to 8:00 pm.
The event will feature San Diego's top fashion designers from the iconic retail establishment, Nordstrom, as well as local retail boutiques for a celebration of fine fashion, gourmet food from select vendors and live music by Wayne Foster Entertainment. Jagger and Kristi from Magic 92.5 will MC the event and Nine10 Photo will document festivities. All proceeds from the event will benefit Shelter to Soldier.
Shelter to Soldier is a CA 501c3 nonprofit organization that rescues dogs from local shelters and trains them to become psychiatric service companions for post 9/11 combat veterans suffering from Post-Traumatic Stress Disorder (PTSD), Traumatic Brain Injury (TBI) and/or other invisible wounds associated with combat. Every day on average, twenty-three (23) U.S. veterans commit suicide (Department of Veteran Affairs). In the past year alone, the number of diagnosed cases of PTSD in the military jumped 50% and this represents cases that have been diagnosed. Studies estimate that one in every five military personnel returning from Iraq and Afghanistan is suffering from PTSD.
According to Shelter to Soldier Founder Graham Bloem, "We're honored to be the recipient of funds from this extraordinary event that brings together a collection of dedicated sponsors and media partners to heighten awareness for animal rescue, the battle our troops face on the home front post-combat and our charity that directly benefits military veterans. Our non-profit organization is solely supported through charitable contributions, so this event will make a significant impact on the delivery of our services to worthy wartime military veterans who have sacrificed so much to defend our freedom as well as rescue dogs that face an uncertain future. Our motto is 'saving lives two at a time' and this event will allow us to continue to expand our mission. "
To participate or become a sponsor for this event, contact Graham Bloem (graham@sheltertosoldier.org or call 855-CUS-TMK9 (855-287-8659). Ticket prices range from $35 for single admission tickets to $750 for VIP tables of up to 10 people, and are on sale now at www.finehomesandliving.com/4th-Annual-Spring-Xposure-2015/. Ticket sales are limited and once sold out, tickets will not be available at the door. To learn more about veteran-support services provided by STS, call 855-CUS-TMK9 (855-287-8659) for a confidential interview regarding eligibility.
Comments
comments