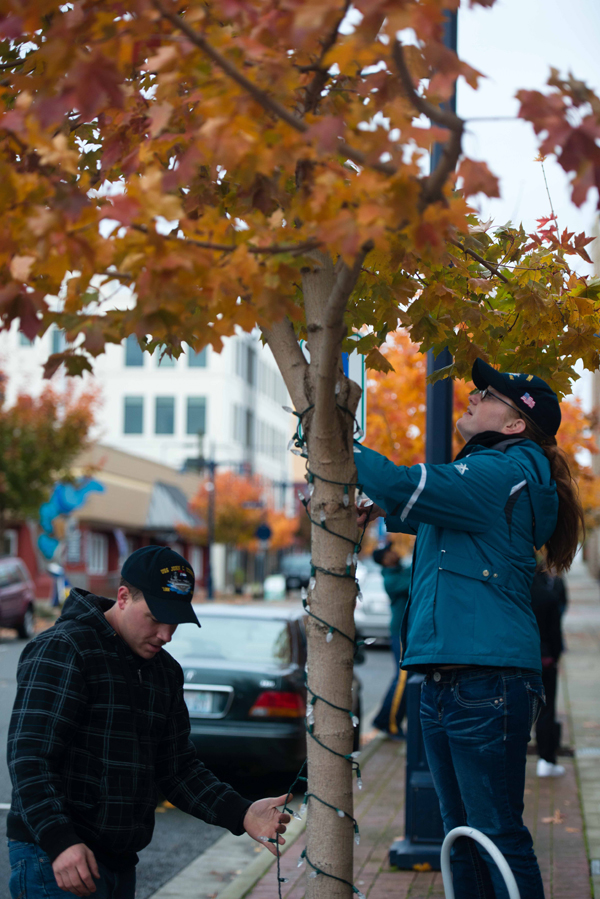 Bremerton, Wash. (Nov. 22, 2014) – Aviation Electrician's Mate 3rd Class Nathan Seaman, from Brush, Colo., and Aviation Electrician's Mate 3rd Class Michelle Munn, from Boise, Idaho, wrap Christmas lights around a tree during a community relations event in downtown Bremerton. Sailors assigned to Nimitz-class aircraft carrier USS John C. Stennis (CVN 74) regularly volunteer for community relations events. (U.S. Navy Photo by Mass Communication Specialist Seaman Ignacio D. Perez/ Released)
---
'Tis the holiday season and Sailors stationed aboard USS John C. Stennis (CVN 74) joined local volunteers in decorating downtown Bremerton during a community relations (COMREL) event last week.
Instead of sleeping in on a Saturday, 12 Sailors met with Carlos Jara, co-owner of Toro Lounge and president of the Downtown Bremerton Association, on a Saturday morning to hang Christmas lights along Pacific Avenue and 4th Street.
"I think it's really good to give back to the community," said Chief Electronics Technician David Corbin, from Chicago. "It betters the community, it betters ourselves and it betters the command."
While electrical plugs are installed next to the trees, it is up to Bremerton locals to decorate the streets.
"In some communities people expect the city to do everything for them, but we're not like that," said Jara. "If you want things done in your community, you have to take ownership."
For the past four years Jara has helped organize decorating the city.
"I've put the call out for volunteers before," said Jara, "but we didn't get much participation until I reached out to the Stennis crew about coming out and helping us."
Participating in the event was another way for Sailors to enjoy the holidays away from home.
"We can't have a Christmas tree in the barracks so this is the closest thing," said Aviation Ordnance Airman Destiny Battle, from Victorville, Calif. "Decorating things gets me in the Christmas spirit."
Anyone interested in past and future COMRELs can contact Religious Programs Specialist 1st Class Zachary Muncrief at his command e-mail, zachary.muncrief@cvn74.navy.mil..
For more news from USS John C. Stennis visit www.stennis.navy.mil or www.facebook.com/stennis 74.
Comments
comments