By Jeri Jacquin | August 17, 2023
Movies
Jeri Jacquin
Coming to Bluray and Digital from director Peter Atencio and Sony Pictures Home Entertainment comes a comedy based on comedy from THE MACHINE.
Bert Kreischer (Bert Kreischer) is trying hard to shake off his past, get closer to his wife and kids and change his ways. Thinking things are going well, he decides to make sure his daughter Sasha (Jessica Gabor) has a fantastic sweet 16 birthday party. Unimpressed by it all, Sasha decides to cut out of the party with Dad falling apart. Not making things any easier is dad Albert (Mark Hamill) with his quips about Bert's profession and bbq'ing skills.
Bert is a comedian and one of the stories he tells for laughs is his train trip to Russia twenty years ago where he made friends with Igor (Nikola Duricko), partied, did a little thieving and earned the name THE MACHINE. Unfortunately, his family is not impressed by it and his father actually doesn't understand how people think its funny.
He's not alone, Bert is confronted in his party driveway by Irina (Iva Babic), a mobster from Russia who wants something that was stolen on the infamous train ride. She wants it back and doesn't care how long it takes because it belonged to her father. Father and son are kidnapped until Bert takes Irina to the stolen item.
Taken to Russia, following them is Irinia's brother Alexei (Robert Maaser) and Bert finds Igor and everything starts to come together to getting the item. That doesn't mean they won't be shot at, punched, knocked out and shocked at everything happening along the way – and that's just Bert!
Kreischer as Bert is, well, Bert. I have been watching his comedy for a while now and he does crack me up (so that THAT Albert!). The story of the Russian train trip is memorable and if you haven't seen his comedy specials, well, we might not be able to remain friends. Watching Kreischer take that comedy bit and turn it into a movie is genius as well as hilarious and fun to watch. He is….The Machine.
Hamill as dad Albert just does my heart so much good. I think I am still harboring that 16-year-old Luke Skywalker crush so any time I see/hear Hamill, I'm all in no matter what it is. Watching Hamill play off of Kreischer is just a diamond. They bounce off one another with such ease that even the 'emotional' moments had me cracking up. As Albert, he gets the fatherly opportunity to be irritating which turns into being a bit of a machine himself.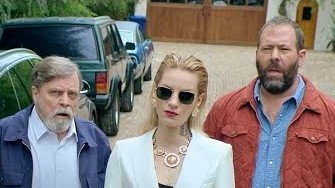 Babic as Irina is as badass as she wants to be from beginning to end. Irritated with The Machine, she sees getting her fathers stolen item back as a way to show she can handle being the head of the mobster family. Babic gets the chance to be a bad girl but at the same time, comedy leaks through and I caught on early.
Shout out to Duricko as Igor for just turning out to be a good guy, I just loved his attitude toward, well, everything. Tatro as young Bert nailed the attitude and what I would expect happened on the train by a young Bert.
Cast also includes Jimmy Tatro as young Bert, Rita Shaw as Ashley, Amelie Villiers as Tatiana, Martyn Ford as Sponge, Oleg Taktarov as Train Igor, Marko Nedeljkovic as young Igor, Mercedes Del La Cruz as Teacher and Stephanie Kurtzuba as LeeAnn.
Sony Pictures Home Entertainment encompasses motion picture production for television, digital content and theater releases. The studios include Columbia Pictures, Screen Gems, TriStar Pictures, Sony Pictures Animation, Stage 6 Films and Sony Picture Classics. To see what is coming to theaters and to home entertainment please visit www.sonypictures.com.
MOVIES ANYWHERE gives viewers the ability to download the Movies Anywhere App. With that you can view films by downloading or streaming to your favorite device using a Digital Code. For more information on Movies Anywhere please visit www.MoviesAnywhere.com.
Bluray, Digital and DVD Bonus Material includes Bert's Big Bash – Premier Party, Bert, Bruised & Brawlin': The Action of THE MACHINE, Outtakes & Bloopers, Deleted Scenes, The Making of THE MACHINE and The Cast of THE MACHINE.
THE MACHINE is a comedy that is just full of laughs, fun and a bit of unexpected action. Kreischer and Hamill get a chance to go full on John Wick when push comes to guns. To be honest, most of their action would be classified as 'dumb luck' but it's entertaining none the less. I cheered them on because I'm all about underdogs and intrigue amateurs.
The cast just rolls with the story based on Kreischer's comedy and it plays out so well. I enjoyed the cast, except for the 16-year-old Sasha who needs a whack with a flip flop in the beginning but at least missed her dad so she gets a flip-flop pass. The film has the total whacky element and that's what a lot of us comedy hungry people want – far out whack hilarious fun and we got it.
In the end – to be a hero it takes a lot of guts!
Comments
comments