By Elise Cooper | June 27, 2018
Books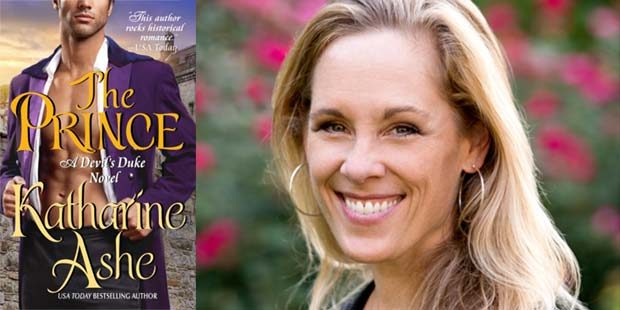 Libby Shaw is ahead of her time, not willing to give into the social norms that forbid women from becoming doctors. To achieve her life-long dream — become a member of Edinburgh's all-male Royal College of Surgeons — she disguises herself as a man. To make this a reality, she enlists the help of Ziyaeddin, who agrees to allow her to live with him on one condition — she must sit once a week for him to paint, but as a woman. Eventually, they come to realize that they are the only people that each feels completely comfortable with, desire and can depend upon.
For anyone who thinks the plotline of "The Prince" isn't realistic, author Katharine Ashe refers them to "the biography of James Barry, which inspired Libby's disguise.
"He was formerly Margaret Buckley, a woman who at 19 changed her name and appearance to enter medical school in Edinburgh in 1809," Ashe said. "This was necessary because most men in 19th century Britain believed that women lacked the physical and moral nature to be physicians or surgeons. It was not until Barry was on his deathbed that it was discovered he had a female body. I thought that if James Barry could do it for a lifetime, then my character could do it for a year. And I wondered: How many women who sought a different life than they were allowed did this?"
Ziyaeddin also hides his identity, frustrated by his 17-year exile in Scotland. He is the deposed prince of Tabir, a small Middle Eastern country. Forced to flee with his mother as a child after his father was killed in a coup, he waits for the moment when he can return, take his rightful place on the throne and rescue his sister.
For now, he bides his time wondering what will become of his and Libby's relationship. Although Tabir is a fictional country, Ashe sees it as "an invention based on the realm of history. It is a small kingdom between the empires of Russia, the Ottoman Empire and Iran. He ended up in Edinburgh because it had a port where people came together, similar to those places where he grew up."
The story explores obsessive-compulsive disorder. It is written in such a way that readers feel Libby's pain. There is an understanding of the actual effects that it has on her as a person. It comes to the forefront after Ziyaeddin leaves for London, and Libby is left alone in the house. Anytime there are sudden changes, Libby has episodes of irrational behavior where she feels compelled to have everything in order, and will keep doing it again and again until she gets it right. If she can't, she shuts down until she can cope again. After she confides in Ziyaeddin, and he agrees to help her, she realizes he is a special person.
Libby is very smart, single-minded in her goal, compassionate, caring, thoughtful and very determined. Ziyaeddin compliments her with his kindness, gentleness, firmness, strength, as well as his protective, nurturing and caring ways.
Infused in the story are fascinating pieces of 19th-century history. This is by no means an information dump, but facts that allow the story to come alive. Ashe has the ability to make sure it does not overwhelm the plot, yet readers learn about the culture, politics and social norms of the era.
This is a refreshing adventure story with a theme of friendship and respect. Ashe weaves in important topics of prejudice, racism, mental health, disability and equality that make the plot and characters relatable.
Comments
comments