By Jeri Jacquin | June 8, 2023
Movies
Jeri Jacquin
Coming to theatres this Friday from director Steven Caple, Jr. and Paramount Pictures is the return of icons with TRANSFORMERS: Rise of the Beast.
It is the New York of 1994 and Noah (Anthony Ramos) is struggling to find a job to make life easier for mother Breanna (Luna Velez) and brother Kris (Dean Scott Vazquez) who has a medical condition. When things aren't going well, he decides to do whatever it takes to get money.
Across town is Elena (Dominique Fishback), a researcher at the museum who wants to be part of a unique discover. When an unusual artifact shows up, she is drawn to it wanting to discover where it came from. These two are about to meet and collide literally in the most universal way.
Noah comes face to face with a fast car that has a mind of its own and introduces itself as Mirage (Pete Davison), the wisecracking Porsche who just wants to be friends. Optimus Prime (Peter Cullen) is not at all happy that a human knows about them. Arcee (Liza Koshy) and Bumblebee have joined in.
Why are they out of hiding? Because Unicron (Colman Domingo) is going from planet to planet swallowing them whole wanting to find the Transwarp Key that would open the portal. That portal would be to swallow Earth and destroy the Autobots and the Maximals. Leading that is Scourge (Peter Dinklage) who reports only to Unicron.
The problem is that artifact that Elena found is a key to the very portal that would bring Unicron in but also allow the Autobots to go home. That means finding the key which takes the group to Peru meeting the Maximals with leader Optimus Primal (Ron Perlman), Airazor (Michelle Yeoh), Rhinox (David Sobolov) and Cheetor (Tongayi Chirisa).
There is nothing left to do but fight it out to keep Unicron. Noah and Elena are ready to do what it takes to stop the world from ending and at first it is to save loved ones – but now it also includes the Autobots and Maximals.
Ramos as Noah is an ex-military man just trying to find his place in 1994 while helping with the responsibility of a younger brother. Meeting Mirage, he has no idea that his world is about to get bigger and his chance to help his new friends is dangerous. Ramos gives us a tough and intense young man who realizes that the only way to help his sick brother is to help save the world.
Fishback as Elena is a young woman who is dealing with a boss who takes credit for her work. Once the interesting artifact comes in, she is going to make sure to examine it for herself which is what sets everything off. Fishback gives us an intelligent and adventurous young woman who is taken aback by everything but when the chance arises, she is all in.
Taken control of being the bots are Cullen with his iconic Optimus Prime voice, Dinklage gets to be the deadly back guy in Scourge, Domingo is the insane Unicron, Yeoh is lovely and stunning in character of Airazor and Perlman makes his mark as Maximal Optimus Primal.
Shout out to Vasquez as the young Kris, he supports Mirage and Noah for taking on the danger and finds a way to be there for support.
Other cast include Tobe Nwigwe as Reek, Cristo Fernandez as Wheeljack, John DiMaggio as Stratosphere and Transit, David Soblov as Battletrap, Michaela Jae Rodriguez as Nightbird,
Paramount Pictures is the longest operating and remaining major studio in Hollywood that has been on the ground floor of every major development in film. From the advent of motion pictures to the emergence of television, through the digital revolution, Paramount Pictures has been there. During our 100-year history, we have served as the production site for thousands of notable movies and television shows. For more please visit www.paramountstudios.com.
TRANSFORMERS: Rise of the Beast gives the 90's vibe with the addition of the music to bring us all back in the day. That seems to be the thing with films in the last few years, using fantastic music from the 70's-90's that adds the right amount of draw.
The storyline is basically what we have come to expect regarding the Transformers franchise, good guys are all around laying low until the bad guys show up. Once that happens, the Autobots have to decide if helping humans and saving their adopted planet is worth it. Of course, while trying to do good, they sure manage to tear the planet they are trying to save apart.
This time they are tearing up New York landmarks and then off to Peru tearing up roads, messing up historical sites and trusting the humans to become Indian Jones like (per the reference from Noah) and find something that should have been really easy for them to find.
Putting that aside, families should enjoy all the action and adventure of the film and might even find themselves cheering, shouting a bit and maybe having a 'no way!' moment or two. Optimus Prime does what he does best, question whether humans can be trusted and be the iconic leader we have all come to know since 1984.
From a television cartoon series, to toys and then to the big screen in 2007, Transformers has become generational. I remember vividly my now late 30-year-old sons sitting in front of the 25" television glued to every episode. I remember sitting with them at the dinner table as they explained who Optimus Prime was and where they came from etc. Then sitting in the theatre watching TRANSFORMERS and now seeing it with my grandchildren. If that isn't generational, I don't know what is.
So, gather up your generational clan and jump into the action and adventure of our favorite Autobots and ROLL OUT!
In the end – unite or fall!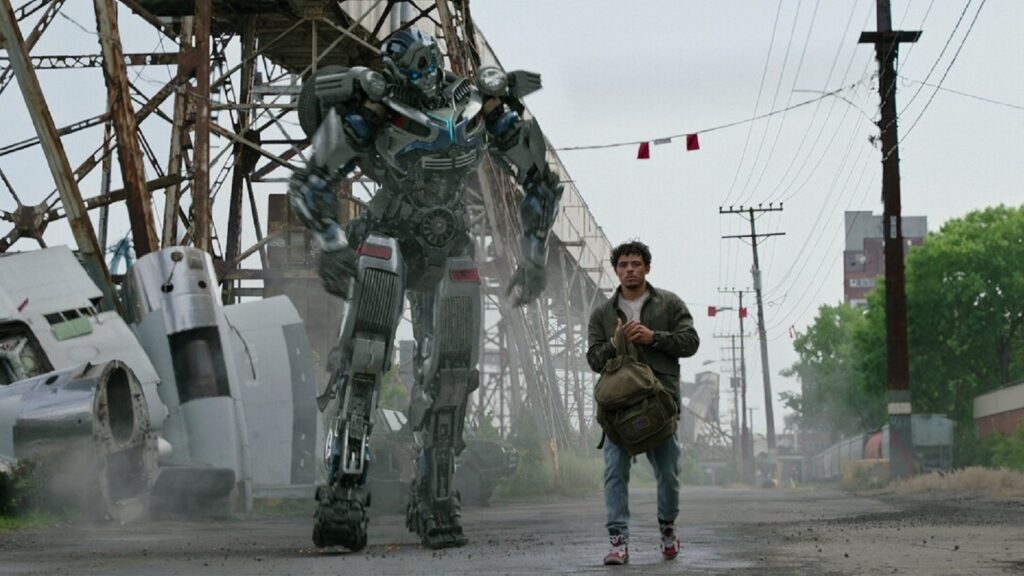 Comments
comments