The Dog Society is hosting a Strays Yappy Hour Party to promote the new Universal Pictures R-rated comedy, STRAYS!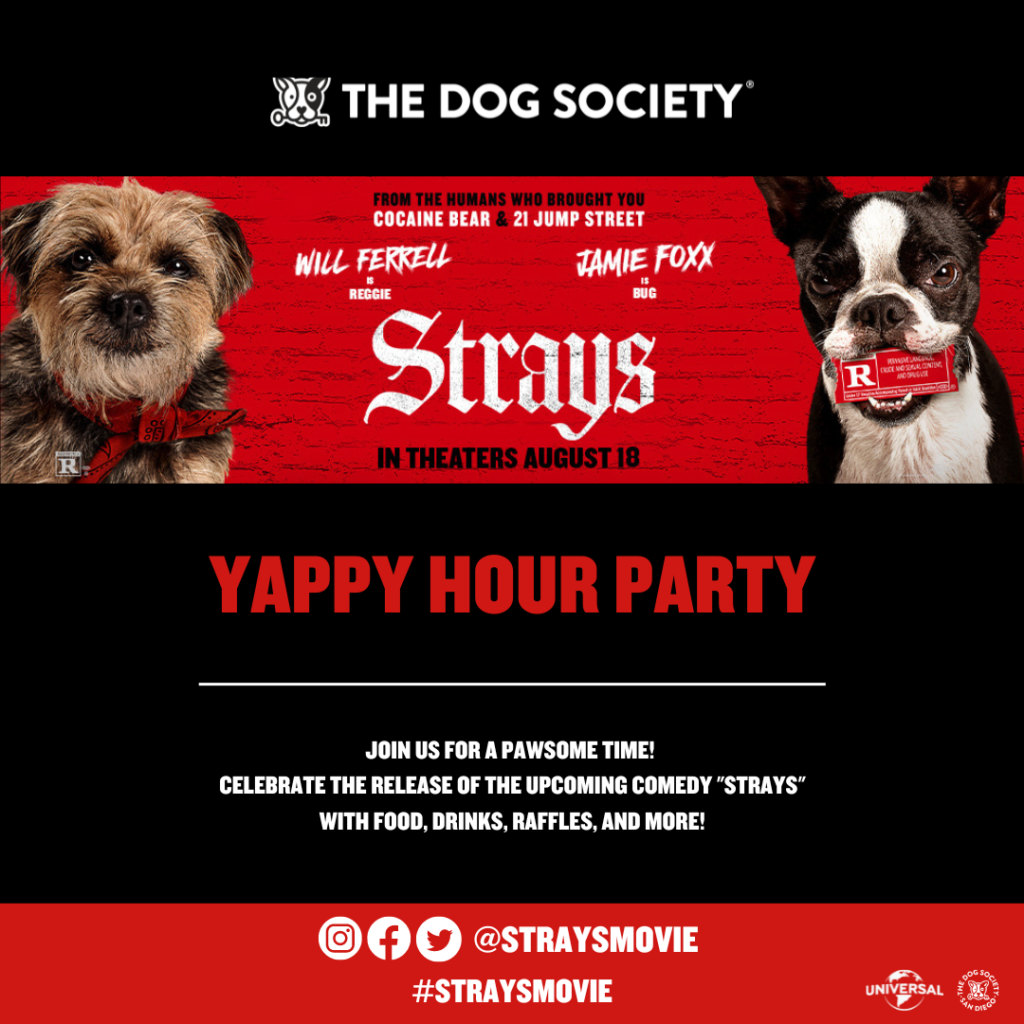 The event will take place on Saturday, August 12 from 4 p.m. to 8 p.m at The Dog Society at 6331 University Ave. San Diego, CA 92115.
The Yappy Hour is open to everyone and their furry friends. Attendees can expect Yappy Hour specials, raffles, vendors, and more!
All attendees must sign this waiver: https://dogsocietysd.com/waivers/
Vendors that will be on-site are Delish Dogs, Fetch the Sun, Swell Gelato, GoGoK9, and more!
About STRAYS
Release date: In theaters August 18
They say a dog is a man's best friend, but what if the man is a total dirtbag? In that case, it might be time for some sweet revenge, doggy style.
When Reggie (Will Ferrell), a naïve, relentlessly optimistic Border Terrier, is abandoned on the mean city streets by his lowlife owner, Doug (Will Forte; The Last Man on Earth, Nebraska), Reggie is certain that his beloved owner would never leave him on purpose.
But once Reggie falls in with a fast-talking, foul-mouthed Boston Terrier named Bug (Oscar® winner Jamie Foxx), a stray who loves his freedom and believes that owners are for suckers, Reggie finally realizes he was in a toxic relationship and begins to see Doug for the heartless sleazeball that he is.
Determined to seek revenge, Reggie, Bug and Bug's pals—Maggie (Isla Fisher; Now You See Me, Wedding Crashers), a smart Australian Shepherd who has been sidelined by her owner's new puppy, and Hunter (Randall Park; Always Be My Maybe, Aquaman), an anxious Great Dane who's stressed out by his work as an emotional support animal—together hatch a plan and embark on an epic adventure to help Reggie find his way home … and make Doug pay by biting off the appendage he loves the most. (Hint: It's not his foot).
A subversion of the dog movies we know and love, Strays, directed by Josh Greenbaum (Barb and Star Go to Vista Del Mar) and written by Dan Perrault (Players, American Vandal), is a hilarious, R-rated, live-action comedy about the complications of love, the importance of great friendships, and the unexpected virtues of couch humping.
The film features a powerhouse comedic supporting cast, including Grammy winner Josh Gad (Beauty and the Beast), Harvey Guillén (Puss in Boots: The Last Wish), Emmy nominee Rob Riggle (The Hangover), Brett Gelman (Stranger Things), Jamie Demetriou (The Afterparty) and Emmy nominee Sofia Vergara (Modern Family).
Strays is produced by Lord Miller partners Phil Lord p.g.a and Christopher Miller p.g.a, (Spider-Man: Into The Spider-Verse, The Lego Movie 2: The Second Part), by Picturestart founder and CEO Erik Feig p.g.a. (Luckiest Girl Alive, Cha Cha Real Smooth), by Lord Miller's Aditya Sood p.g.a. (The Martian, Cocaine Bear), by Louis Leterrier (director Fast X, The Clash of the Titans) and by Dan Perrault (Players, American Vandal).
The film is executive produced by Nikki Baida, Doug Merrifield, Jessica Switch and Julia Hammer. Universal Pictures presents a Lord Miller/Picturestart production.
About The Dog Society
The Dog Society in San Diego is a one-of-a-kind place that provides a safe, fun space for dogs and their humans to come together to enjoy a full-scale dog-centric experience. From boarding, daycare, grooming and training for pups, to an off-leash beer garden, cafe, and games for their best friends, The Dog Society is a veritable dog-focused paradise that people love too. Female-owned and operated, The Dog Society's facility features many amenities and an open layout for people and pups alike to explore and enjoy. It is located at 6331 University Avenue in the Rolando neighborhood of San Diego. For more information, visit dogsocietysd.com.
Comments
comments