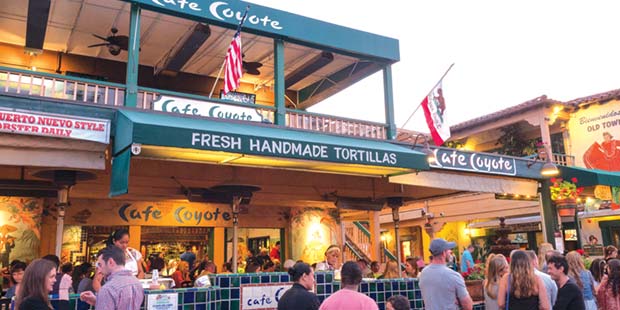 The holidays are over. Is your New Year's resolution to try something new? This month provides an opportunity to dine at your choice of almost 200 restaurants throughout San Diego County. They will be serving two-course lunches for $10, $15 or $20 per person and three-course, prix-fixe dinners ranging from $20 to $50. Need help deciding? Here are my lunch recommendations. Don't forget to bring a friend and share dishes for an enhanced experience.
Cafe Coyote, in historic Old Town San Diego and winner of the "Best Mexican" in 2018, offers an outstanding bargain for $10. Start with either the Sopes Mexicanos or Caesar salad. There are seven entrees to choose from. You can't miss with the Old Town Carnitas. The Pollo a la Crema features a distinctive jalepeño sauce. If you prefer a dessert instead of an appetizer, pick from three: apple tacos, fried ice cream or Mexican flan. Outdoor seating, great margaritas, and music add to the fun. www.CafeCoyoteOldTown.com or (619) 291-4695
Tom Ham's Lighthouse, a favorite on Harbor Island since 1971, overlooks San Diego Bay and is my $15 suggestion. The extensive menu includes eight starters, 12 entrees and four desserts. For two people, order the chopped Caesar salad and lobster bisque, followed by cioppino and a crab BLT. Dessert choices include New York cheesecake, cinnamon apple crumb cake, chocolate mousse cake or creme brûlée. The portions are generous. Lunch is served on the new patio, providing a sensational view of the downtown skyline and Coronado Bridge. www.TomHamsLighthouse.com or (619) 291-9110.
Ballast Point Kitchen at Miramar has a $20 menu, featuring salmon poke or a Bavarian pretzel with house beer mustard and hot beer cheese dip for starters. Don't miss the outstanding Sea Rose mussels entree. The dessert trio of homemade gelatos is a perfect ending to the meal. Note: There are two vegetarian main-course options. The restaurant is located at their brewery (tours available by reservation), which has a sleek modern design and nautical feel with lots of polished wood. Outdoor seating and a nice bar area are also available. www.BallastPoint.com or (858) 790-6901
Please note that drinks, taxes and gratuities are not included in the meal price. Go to www.SanDiegoRestaurantWeek.com for further information and a full list of participants.
More excitement in January
The Cygnet Theater in Old Town San Diego is presenting the musical "Marie and Rosetta" from Jan. 16 to Feb. I am a huge fan of both and can't wait to see the production. The legendary Tharpe, enshrined in the Rock & Roll Hall of Fame, was an early influence of Elvis, Johnny Cash and Ray Charles. Her protégée was Marie Knight and they toured together. Logon to www.CygnetTheater.com for information and tickets.
Let's go!
Comments
comments