Not since Vince Flynn and Nelson DeMille has there been a string of outstanding stories, twelve to be exact. He writes his characters with wit, sarcasm, and allows readers to get into the characters' heads. This novel focuses on honor, duty, love, forgiveness, and addiction.
The first half of the story sets up the second half and focuses more on Court's former partner and love interest Zoya Zakharova, code-named "Anthem. The plot goes from geo-political to a cat and mouse chase. Both Court Gentry, the Gray Man, and Zoya, are former rogue CIA operatives who worked in the shadows when plausible deniability was necessary.
Gentry and Zoya are hired independently of each other to retrieve a certain phone. They are after Alex Velesky, who has stolen information, on his burner phone, from the Swiss bank he works for with the goal to uncover a conspiracy where Western traitors are working hand in hand with the Russians. Zoya gets to him first and promises to take him to New York where Alex will expose the traitors. But she is not at her best, feeling adrift, missing her lover Court, and has as her only companion's vodka and cocaine. Whether Court or Zoya, Greaney has allowed readers to get to know these characters better realizing they have emotional and psychological trauma.
The Court and Zoya plots run parallel until their missions intersect and the two lovers are reunited, facing almost impossible odds. She and Court are on a collision course as they try to combat Russians, powerful politicians, and those administrators in the CIA.
Per usual in each of his books Greaney has the most awesome action scenes. As the story opens readers find Court hired to blow up Russian Oligarchs' yachts but getting interference as he fights off Russian divers. As good as this scene is it does not compare to the captivating train scene later in the book.
The cast of characters will have readers loving some and hating others. The plot is relentless with an abundance of action. It is also very timely since the events involve the Russian-Ukrainian War.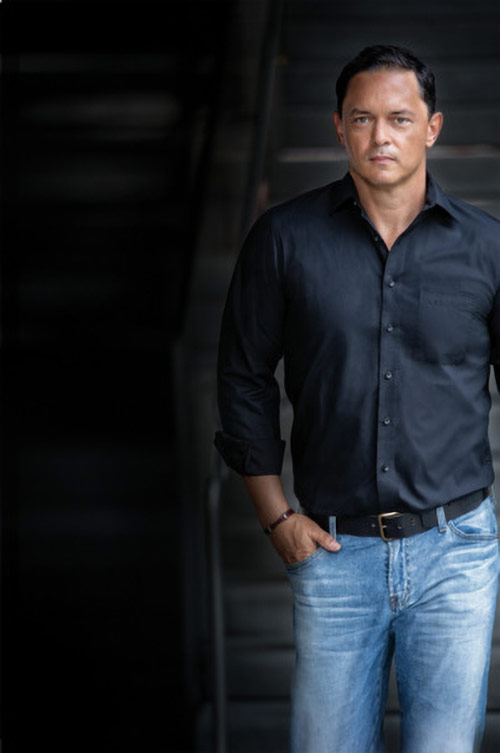 Elise Cooper: Idea for the story?
Mark Greaney: Even before the Russian invasion I wanted to write how Russian foreign intelligence buys influences of people in the West. I already started the book when the invasion of Ukraine began. One of my characters is Alex Veleskey, an American of Ukrainian descent, now working in a Swiss bank. He seeks revenge after the Russians killed his family in the war, the springboard for the plot. I tried to figure out where this war will be, knowing how a small portion of Ukrainians are supporting Russia, which I have in the book as well. An important part of the story is how relationships of convenience are created for the greater good even though many of the characters have been each other's nemesis for years.
EC: The structure of the book changes about mid-way?
MG: I structured the story where the first part is geo-political, making sure readers understand what is happening, and the last part is a cat and mouse chase. Regarding Zoya and Court, the story has them about 50-50. My earlier book, Mission Critical, was more about Zoya. But, I do agree, the first half of the book feels like it has a lot more Zoya.
EC: Zoya changed in this book?
MG: Yes. She was really in a dark place. I have done this to Court in earlier books. Zoya is depressed and down. She is drinking with a cocaine habit. Because of where she is in her life, she appears fragile with a lot of vulnerabilities, isolated, and withdrawn. The more of these books I write, the more I want to delve into the characters.
EC: You describe the symptoms of someone taking cocaine?
MG: Yes, people have flushed cheeks, eyes bloodshot, twitchy, sweating, fast heart rate, more erratic, and eventually drained with anxiety. I have never done coke, so I did research by talking with two people who did and looked it up as well.
EC: How would you describe the Gray Man, Court Gentry's resume?
MG: Professional saboteur, a private assassin, and an international fugitive.
EC: Is it true how Russia was buying influential people in the West?
MG: Yes. They have been involved with spying for the Russians or doing counter-terrorism measures on the Russians behalf. I wrote about this true to life issue. Just about two weeks ago, the chief of counterintelligence in the FBI New York Office, Charles McGonigal, was arrested for taking money from a Russian Oligarch, one of Putin's cronies, Oleg Deripaska. McGonigal was charged with money laundering and violating US Treasury sanctions.
EC: The relationship between Court and Zoya?
MG: I wanted to mess with people's expectations. They will either have their heart strings pulled, make them scared, or make them happy. Zoya really misses Court. Both did not know how to connect with one another. There is a physical distance between them but also an emotional distance between them including trust issues since Court ran out on her. They are two headstrong characters that are very similar. They both are lonely, missed each other, and saw the other person as the only one who understands them.
EC: How would you describe the new character, Angela Lacy?
MG: Her personality is different from Brewer and Zoya, yet she is strong and confident. In a sense she is Brewer's foil. Because she is looking to improve her position in the CIA, Court is wary of her while Zoya does not trust her at all. Lacy is more good than bad. Right now, she can be trustful, direct, honorable, and honest. She will be one of Court's CIA contacts in future books.
EC: You always have the best action scenes.
MG: The beginning of the book where Court is trying to blow up a Russian Oligarch's yacht was based on my experience with diving. I did some diving in Saint Lucia. Later in the story, the train scene when I originally wrote it was 80 pages long, about 15% of the book. As I was finishing that scene, I was not happy with it. So I went to Europe, traveling on the train from Milan to Geneva, taking pictures and videos, getting the angles figured. I am trying to sell what happens to the characters to the readers.
EC: Can you talk about your feelings regarding the "Gray Man" TV movie on Netflix?
MG: They will be making another one, but they have not started filming yet. It will be based on one of my books. I really liked it but since I read the screenplay before the movie came out, I knew it was not going to be as gritty and edgy as the book. They did make changes with the book plot. I went in with the right attitude since I had no control. I felt it was 60% of the book and 40% different with new stuff. There were places in the movie that I really liked the changes and wished I had written it yet there were places where I thought my little twist was more effective.
EC: What about the actors who portrayed some of the characters?
MG: Ryan Gosling nailed down the character as I wrote him. There are villains in the Gray Man book that were not in the movie so hopefully someone who did not read the book will pick it up to learn more. Ana De Armas, the female lead, was cool, but she rescued Court too much. In the books I do have people pulling the Gray Man out of the fire, but she was a little bit of a 'too good to be true' character. I like the women, to be more like Zoya, a little rougher, harder edge, more morally ambiguous, and less of coming in to save the day.
EC: Next book?
MG: I have not started writing it. It will take place in Cuba and Singapore. The plot will have Zach, Hanley, Zoya, and obviously Court. The villain is a private individual. There will be a connection to the CIA but not involved with a mission.
THANK YOU!!
Comments
comments