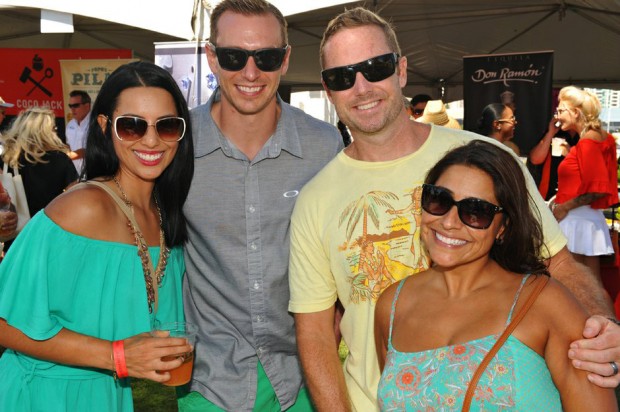 ¡Latin Food Fest! returns to San Diego Aug. 14-17 for another Latin culinary extravaganza and announces the agenda for its signature events, Grande Tasting and Family Fiesta, both of which will take place at The Broadway Pier on Aug. 15 and 16, respectively.
During four consecutive days, these events will offer a unique experience that includes tasting samples of multiple spirits at the "Spirits of the Americas" extravaganza (such as Bacanora, Cachaça, Mezcal, Pisco, Raicilla, Rum, Sotol and Tequila); enjoying the cuisine and cooking demonstrations from world-renowned chefs at the "Grande Tasting" event; having fun with your children at the "Family Fiesta's" Kids Kitchen; and participating in the invitation-only "Havana Nights Supper Club" with its six-course private dinner that features a Cuban tasting experience and live music. There is something to enjoy for everyone's palate.
With a collection of restaurants and world-renowned chefs at one tasting event presents guests with a one-of-a-kind culinary experience complete with an extensive wine and spirits collection.
Grande Tasting
The 3rd annual Grande Tasting is a showcase for 100 restaurants, chefs, artisanal foods makers and renowned wine and spirit purveyors. Mixologists and distillers will hold tastings of Bacanora, Cachaça, Mezcal, Pisco, Rum, Sotol and Tequila while chefs and sommeliers will demonstrate on-stage, emceed by chef and national Univision host Tati Polo.
A VIP ticket grants early admission and access to the "VIP Lounge" where each guest will enjoy a gift bag, pours of sparkling wine, organic Tequila, gourmet bites such as oysters and Spanish Jamon and hand rolled cigars and in a lively setting with live music.
Music performance by TodoMundo, which was voted "Best World Music" band at the 2014, art, and a silent auction of culinary supplies and memorabilia.
Family Fiesta
Family Fiesta guests can purchase Latin food, dance to live music, explore the food garden, learn the basics of a healthy lifestyle with renowned chefs, and kids can get their hands messy in the interactive Kids Kitchen. And did we mention the spectacular bayside views, getting a picture with friendly Luchador by Jarritos or putting face glitter and face paint on?
Tickets for Grande Tasting and Family Fiesta and can be purchased online at www.latinfoodfest.com/taste and www.latinfoodfest.com/family or by calling (858) 461-1970 (phone sales open Monday – Friday, 8 a.m.–6 p.m.).
Win Tickets!
The Military Press is giving away tickets to the ¡Latin Food Fest! CLICK HERE for your chance to win!
Comments
comments