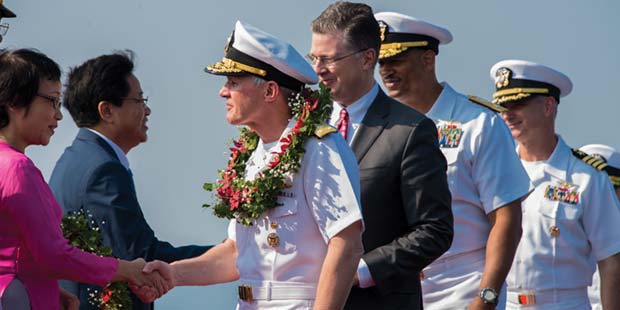 Sailors from aircraft carrier USS Carl Vinson (CVN 70) returned home to Naval Air Station North Island in San Diego, April 12, after completing a scheduled three-month deployment.
More than 5,000 Sailors from Carl Vinson and embarked Carrier Air Wing (CVW) 2 deployed Jan. 5 to conduct routine operations in the Indo-Pacific and maintain security and stability in the region.
"We safely conducted our mission in a complex operating environment," said Rear Adm. John Fuller, the Carl Vinson Strike Group commander.
"I give full credit to our Sailors. They demonstrated outstanding readiness, watchstanding and navigational skill, and represented our nation and Navy with great pride and professionalism. I am very pleased with what we accomplished at sea and ashore as a team."
Carl Vinson steamed approximately 40,000 nautical miles and visited Guam, the Philippines and Vietnam. The visit to Vietnam was the first by a U.S. aircraft carrier in more than 40 years and demonstrated America's continued commitment to the region. Carl Vinson hosted more than 1,300 guests for tours, professional exchanges and a formal reception. Sailors also participated in community service events and sports competitions.
The strike group conducted a variety of joint and combined exercises designed to strengthen regional partnerships and enhance maritime interoperability. Carl Vinson completed a bilateral exercise with the Japan Maritime Self-Defense Force in March. The exercise included a series of training drills and Sailor-to-Sailor exchanges.
"I'm very proud of what we accomplished as a team," said Capt. Douglas Verissimo, Carl Vinson's commanding officer. "The historic visit to Vietnam and the crew's efforts there will have a tremendous impact for many years."
Carl Vinson is the flagship for Carrier Strike Group 1. The strike group also includes guided-missile cruiser USS Lake Champlain (CG 57) and guided-missile destroyers USS Wayne E. Meyer (DDG 108) and USS Michael Murphy (DDG 112) from Destroyer Squadron 1.
Wayne E. Meyer returned to Naval Base San Diego at 32nd Street immediately following Carl Vinson's return. Lake Champlain will return to San Diego after completing scheduled operations in the U.S. 4th Fleet area of responsibility. Michael Murphy will return to its homeport at Pearl Harbor.
The strike group's deployment marks the second time it has successfully operated in the Indo-Pacific region under U.S. 3rd Fleet's command and control. U.S. 3rd Fleet's control of ships and aircraft across the Western Pacific and beyond the international dateline to India enables U.S. 3rd and 7th Fleets to operate together across a broad spectrum of maritime missions in the region.
Comments
comments