It took less than three weeks from the end of another disappointing regular season for team President Dean Spanos to hire Tom Telesco and Mike McCoy to replace A.J. Smith and Norv Turner as the Chargers new general manager and head coach, respectively.
And now that McCoy completed his coaching staff, the immediate challenge is to focus on the current roster and make tough decisions on some big-name players whose roster spots could wreak havoc on the salary cap.
The obvious and number one priority facing the Chargers this offseason is overhauling the offensive line. With last year's big free agent signee Jared Gaither unlikely to be brought back at left tackle, Tyrone Green's inconsistent play at left guard and Jeromey Clary's continuous struggles at right tackle, the big question is who should stay or who should go?
Green is an unrestricted free agent who will likely be let go unless they can get him back on the cheap. However, since both tackles are under contract, the team will take a reported $9.34 million cap hit if both Gaither ($6 million) and Clary ($3.4 million) are allowed to walk. Another problem is at right guard where highly-regarded Louis Vasquez is entering the final year of his contract and the Chargers must get him signed before he hits the free agent market in 2014.
Telesco and McCoy must also decide what to do with two of Smith's high-priced free agent signings last year that, like Gaither, turned out to be a waste of money for their lack of production on the field. Unlike Gaither, it wasn't for a lack of effort.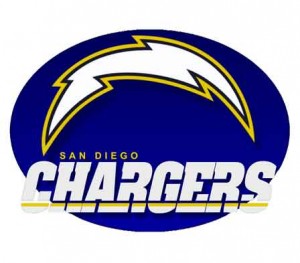 The contracts of Robert Meachem ($5 million) and Eddie Royal ($3 million) are guaranteed in 2013. Although neither receiver came close to living up to expectations, the emergence of Michael Spurlock at both receiver and kick returner likely makes Royal the odd man out despite the $3 million cap hit it that will cost the team.
Although there is no salary hit if the front office decides to let the four 'named' free agents on defense to walk, the question is what ill effect it will have on a young and talented unit if none of the players are brought back?
At linebacker, Shaun Phillips' 67 sacks ranks second in team history and at age 31, will likely demand one last big contract since he can still be a difference maker on the field. With 2012 first-round pick Melvin Ingram pushing to break the starting lineup this upcoming season, the chances don't look good for Phillips' return.
Ditto for Takeo Spikes. It's hard to imagine the Chargers bringing back the 36-year-old for a third season despite the positive leadership he provides both on and off the field – especially with the emergence of fellow inside 'backer Donald Butler. Like Vasquez on offense, Butler must be locked down because he will be in high demand if allowed to hit free agency in 2014.
Another conundrum lies in the Chargers secondary where both starting cornerbacks, former first-round picks Quentin Jammer and Antoine Cason, are unrestricted free agents.
Drafted number five overall in 2002, Jammer is the longest-tenured Charger with 11 seasons under his belt. Despite being the most physical player in the secondary, he turns 34 in June and with other contracts taking priority, it appears Jammer will be a victim of the youth movement on the team.
Cason, the 27th pick of the 2008 draft, had a decent year with 73 tackles, 11 pass defense, 2 interceptions and two forced fumbles. With the talent to play both corner, the nickel and his ability to return punts, retaining Cason will depend not only on what his skills demand in the open market, but the progress of corners Shareece Wright and Marcus Gilchrist who have shown flashes when given the opportunity.
The Endzone: Unlike last offseason, don't expect the Chargers to be big players in the free agent market which begins March 3. "As far as building this team, you're really looking at a draft developed atmosphere," Telesco said in a recent interview on Chargers.com. "You want homegrown people from the draft. That will be the main focus. Now we'll use free agency as a compliment and a supplement if it works and the economic investment works. We will certainly do that."
Comments
comments