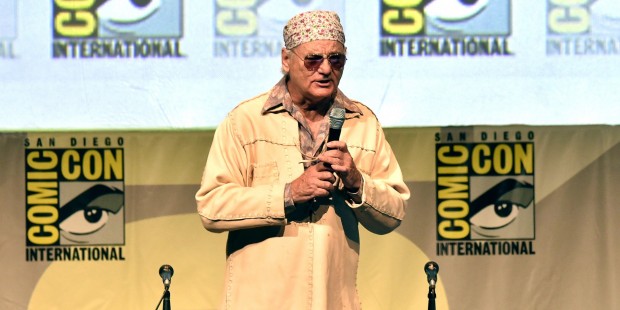 Early to bed and early to rise means only one thing — a better chance of finding a parking space that doesn't break the bank! The Norse gods must have been watching over me on the corner of 7th and Island downtown as a space opened up like the Red Sea! Honestly, I was a tad shocked it was open and I might, might mind you, have bent the driving rules a tad, but securing a space sometimes causes an ordinarily intelligent brain to go whack-a-doodle!
Arriving early also allows one to take in the final set ups of the outside events. Of course Walker Stalker Fan Fest is putting the finishing touches on PETCO for "The Walking Dead Escape" and yes, we will be telling you all about it Saturday after we make it out alive! There is so much for every one to do with the help of Walker Stalker Fan Fest because the events are for fans, by fans. Go to http://walkerstalkerfanfest.com see the schedule of events, the guests which include Chad Coleman who played Tyreese, Andrew J. West who played Gareth and the very adorable Michael Rooker who played Merle and more!
Also outdoors, FX has set up the "FX Fearless Arena" fan experience that covers the entire Hilton Bayfront Park next to the Convention Center. Attendees will check into the "American Horror Story" Hotel, go into the virtual reality world of "The Strain," or maybe become part of a giant "Fargo" snow globe. If that isn't enough, how about rounding it out with a medieval forest challenge with the highly anticipated Kurt Sutter series "The Bastard Executioner's."
At the Hard Rock Hotel, LEGO Dimensions will be showcasing their interactive entertainment with hands-on gameplay demos as well as photo ops and giveaways. This is definitely an event for families, fans, gamers and kids of all ages.
Going inside the Convention Center in Hall H, no one would have believed it to be true but the man himself, Mr. Bill Murray, started everyone's day. Strolling through Hall H with a bandanna on his head (his character is rock promoter Richie Lanz for the new film "Rock the Kasbah") to the tune of "Smoke on the Water" — everyone in the crowd lost their collective minds. Sharing his thoughts on Miley Cyrus, working with a young Bruce Willis, the upcoming Netflix Christmas show and the film "Rock the Kasbah" he parted with these words:
"The world is changing. It's very slow, and it doesn't change the way we want it, it's planetary, it's universal. You can hit a table and say 'this is wrong', there's a flag flying from a building in South Carolina that people are really upset about, it's going to change. But it doesn't change because people say so. We were a country that was founded with a glorious Declaration of Independence, at a time when we still had slavery! The deal was: Okay, we will sign it but in 1820 the laws will start changing. They made a 50-year plan to get it done. It's insane but you had to make some kind of compromise. How do you make it change? It starts with yourself. We are slaves ourselves, slaves to our own weaknesses. We're slaves to our bodies, to our emotions. If you can free your own self, that's the best thing you can do."
Here endeth Mr. Murray's lesson!
What could possibly follow that? How about "The Hunger Games: Mockingjay Part 2?" The panel, moderated by Conan O'Brien, consisted of director Francis Lawrence along with producer Nina Jacobson and Katniss herself Jennifer Lawrence, Josh Hutcherson, and Liam Hemsworth.
As clips were shown, the audience went into a high-pitched screaming frenzy (yes, temporary hearing loss is part of the gig) and Katniss is definitely the focal point. Playing the questioning close to the vest, it is clear spoilers weren't a part of this panel.
Through all the joking (Conan referred to Katniss' weapon as a crossbow and Lawrence response was quick and biting to which said moderator replied all in humor, "you just made a fool out of me.") and obvious camaraderie of the cast, this is also a goodbye between cast and fans as this series of films comes to its final conclusion Nov. 20.
William Shatner, a.k.a. your favorite Captain of Star Fleet, took the stage in Ballroom 20 to read from "The Autobiography of James T. Kirk." The book chronicles the life of this iconic Star Fleet Captain from his humble beginnings. Shatner is a joy to listen to what ever he reads but this was particularly an awesome way to the final frontier.
"Dr. Who" is once again in Hall H as Peter Capaldi takes over the role as the Doctor. Debuting at his first Comic Con panel, BBC America also brought along Jenna Coleman and Michelle Gomez along with writer/producer Steven Moffat. Capaldi's first season brought BBC American its highest rates season ever and the fans keep coming back for more. One tardis if you please!
Finally, Scooby, Shaggy, Fred, Daphne and Velma are back with a new animated musical "SCOOBY-DOO! and KISS: Rock and Roll Mystery!" The gang head for KISS World for a Halloween concert and adventure. Original all new songs are performed by Kiss. The screening was followed by a panel moderated by Kevin Smith including Gene Simmons, Paul Stanley, Tommy Thayer and Eric Singer.
If that wasn't a long enough day filled with excitement, Flo Rida and the All Time Low take on Petco Park for the MTV Fandom Fest party. Hosted by Tyler Posey from "Teen Wolf" and Bella Thorne from "Scream," there were performances by Flo Rida and guests Tyga, Lynide Greenwood, Dylan Bruce and Orlando Jones. Don't worry if you couldn't be there because MTV will be airing the event on Sunday, July 12th at 8 p.m., so set your DVR!
That's it for Day Two of San Diego Comic-Con but don't you worry, Friday and Saturday are going to blow the lid off Downtown San Diego. There is so much to do and as anyone who has attending the Con can tell you — we wish there were more than one of ourselves to cover it all.
So get out there and experience everything Comic-Con has to offer and be kind to one another. To everyone who stopped me today and said hello, hugged, took pictures and shared what's been going on since we saw one another in 2014 — thanks! I couldn't do this without you and, truly, wouldn't want to!
Now onward to day three!
Comments
comments