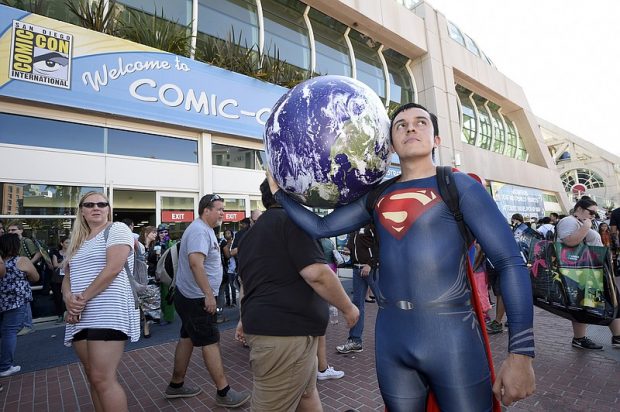 Has it been a year already? Apparently so as San Diego gears up for Comic-Con 2018 and if you have been downtown in the last few days you see the commotion as preparations are being made and hotels are filling up quickly. The anticipation is always part of Comic-Con as fans prepare to invade the Convention Center with all things fun.
It all beings Wednesday, July 18 with Preview Night and as the name suggests, those lucky enough to hold badges are privy to some of the most amazing sites and sounds that Comic-Con has to offer. There are games, toys, shirts, bags, pins, comic books and so much more and preview night is the first chance to walk away with so many goodies.
But that's not all as Comic-Con and Warn Bros. Television bring the exclusive screening of the new series "Manifest" and another advanced screening of "The 100." Finishing off the evening is a brand new episode from the second season of "Freedom Fighters: The Ray." At the Horton Grand Theatre, New Line Cinema "Scarediego" offers badge holders a look at the 2018-2019 slate of horror films along with panels of special filmmaker guests.
Of course, the town will be buzzing with parties and gatherings to celebrate the beginning of four more days of meeting up with friends, meeting new friends and experiencing everything from Ballroom 20 to Hall H and everything in between.
On Thursday, July 19, the day for me will begin with a trip to Hall H (no surprise right?) as the morning begins with 20th Century Fox's "The Predator." Director Shane Black brings cast members Olivia Munn, Sterling K. Brown, Keegan-Michael Key, Trevante Rhodes, Jake Busey,Yvonne Strahovski, Thomas Jane and Augusto Aguilera to panel. The talk will turn to bringing their story and take to the iconic and recognizable franchise.
BBC America is welcomed to Hall H with their panel of "Doctor Who" and the 13th Doctor Jodie Whittaker and cast Tosin Cole, Mandip Gill, Chris Chibail and executive producer Matt Strevens. What makes this so special is that the is the first time "Doctor Who" has come with a panel before the next season begins so I'm sure the question and answer session is going to be full of questions.
"Dragon Ball Super" brings Sean Schemmel and Christopher Sabat into the Dragon Ball world to bring special surprises and reveal things not before seen about the new movie.
AMC brings "Better Call Saul" and Bob Odenkirk, Rhea Seehorn, Patrick Fabian, Michael Mando and Giancarlo Esposito along with producers Vince Gilligan and Peter Gould to chat up about the fourth season returning on August 6th. Also, AMC brings a "Breaking Bad" 10th Anniversary Celebration as Bryon Cranston, Aaron Paul, Anna Gunn, Dean Norris, Betsy Brandt, RJ Mitte, Bob Odenkirk and Giancarlo Esposito talk about their time on the series and the legacy of the series.
"Assassination Nation" brings the Russo Brothers to Comic-Con to talk about how difficult this particular high school becomes when every phone in town is hacked meaning everyone sees everything! Director Sam Levinson and Bill Skarsgard, Suki Waterhouse, Hari Nef and Abra will be on hand to talk about the film.
Ballroom 20 brings their best as well with behind the scenes of Freeform's "Siren." The cast and producers of the first season hit show are debuting at Comic-Con to talk about what fans can expect from the next season at Bristol Cove. "Charmed" comes to Comic-Con in time to celebrate its 20th anniversary and to talk about the reboot of the new series staring Melonie Diaz, Sarah Jeffery, Madeleine Mantock and Rupert Evans along with producers Jennie Snyder Urman, Jessica O'Toole and Amy Rardin.
"Tell Me a Story" comes to Ballroom 20 and is the project of Kevin Williamson who tells his version of such fairy tales as the Three Little Pigs and Little Red Riding Hood. Stars Paul Wesley and James Wolk are there to discuss the new series. Following this panel is another new series "A Discovery of Witches" as Teresa Palmer, Matthew Goode, Alex Kingston, and Owen Teale discuss the story created by author Deborah Harkness.
Bobcat Goldthwait's "Misfits and Monsters" brings panelists Jake Hurwitz, Amir Blumenfeld, Tara Lynne Barr and Karan Soni to talk about the series and the inspiration behind the truTV's anthology series. SyFy "Wire" brings Aisha Tyler to Host the Great Debate with Felicia Day, Joe Manganiello, Adam Savage, Janet Varney, Orlando Jones and John Barrowman in to debate anything and everything with the fans casting a vote for the best argument — now that's going to be fun!
Netflix brings Marvel's "Iron Fist" and scoops about Danny Rand and Colleen Wing on season 2. Marvel's head of television Jeph Loeb will be on hand and a few surprises as well.
At the Indigo Ballroom Hilton San Diego Bayfront, the day begins with the 6th annual musical "Anatomy of a Superhero" as the panel gives a peek into the music that makes films even more amazing. Composers Tyler Bates, Marco Beltrami, Christophe Beck, Kurt Farquhar and Blake Neely talk about their projects and share more of their work.
SyFy brings the new series from George R.R. Martin set in 2093 with "Nightflyers."
The most expensive ship every built journey's through space and the crew learns the horrors aren't on the outside, but actually on the inside of their ship. Producers Jeff Buhler, Gene Klein and David Bartis join stars Eoin Macken, Gretchen Mol, David Ajala, Jodie Turner-Smith and Angus Sampson are on hand to talk about the new and exciting series.
"Z Nation" brings cast members DJ Qualis, Kelita Smith, Russell Hodgkinson and Karl Schaefer to the panel to talk zombies and what is coming to the 5th season of the series. The Netflix original series "Black Summer" is the spin-off to "Z Nation" as fans get a first-hand look at what is to come and how shocking the story might be.
The day wouldn't be complete without wandering downtown to see all the exhibits and hands-on fun that can be had where ever you look. I have to admit that's probably the best ending to my day is experiencing all that keeps downtown lively! So this is just a little peek inside what is coming on Preview Night and Comic-Con's first full on Thursday.
There are so many panels that discuss everything from artwork in comics to story ideas and voice work for all things animation.
I hope to see you all at the Convention Center and remember, even if you didn't get a badge this year, there is so much to do, see and experience at Comic-Con. Come early, dress appropriately, wear comfy shoes and bring water to stay hydrated while going from fun to fun.
Comments
comments