ASPCA applauds measure ensuring adoption, veterinary care for retired military dogs
The ASPCA® (The American Society for the Prevention of Cruelty to Animals®) today applauds the U.S. Congress for passing legislation to protect military dogs. Included as an amendment to the National Defense Authorization Act for Fiscal Year 2013, the measure provides significant steps for the protection of retired military dogs by streamlining the adoption process and authorizing a system of veterinary care for the retired animals at no expense to taxpayers. The Defense Authorization bill now moves to President Barack Obama for his signature.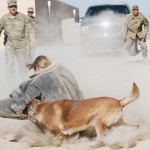 This provision was included in the National Defense Authorization Act (NDAA) through the leadership of Sen. Richard Blumenthal (D-Conn.) in the U.S. Senate and Rep. Walter Jones (R-N.C.) in the U.S. House of Representatives. Both legislators introduced similar legislation to assist military dogs, the Canine Members of the Armed Forces Act, earlier this year.
"Military dogs are true heroes—they play a critical role in our nation's defense," said Nancy Perry, senior vice president of ASPCA Government Relations. "These amazing dogs have been loyal to us in extreme circumstances and deserve to be properly cared for and adopted into good homes after such unwavering service to their country. We thank Senator Blumenthal and Representative Jones for ensuring these heroic dogs' health and well-being is properly cared for."
Military dogs successfully perform many important and dangerous duties that can be difficult, if not impossible, for humans. After years of service, military dogs deserve a safe retirement option and may require expensive veterinary care to treat health issues related to their dedicated service. Establishing a long-term, reliable source of support for that care will ensure that our nation's commitment to the dogs' well-being extends beyond their period of military service. The bill also streamlines the adoption process by standardizing the transfer of retired military dogs from foreign soil back to the United States, where they can be permanently placed into loving homes.
"Military working dogs are so crucial to the safety of our service members, and it is our job to provide them with the love and care that they so honorably deserve when they are retired," said Rep. Jones. "I would like to thank Senator Blumenthal for his leadership in the Senate and all the organizations, such as the ASPCA, who have supported our efforts."
"I am pleased that this year's NDAA will recognize the importance of military working dogs by providing for their care," added Sen. Blumenthal. "These dogs have saved countless human lives through their vital work and deserve to be honored in this way. I thank Congressman Jones and the organizations that have worked so hard to ensure that these canine heroes receive the care they deserve. I will continue to work with these key organizations to ensure that the Department of Defense implements the provisions of the NDAA that will establish standards of care for retired military working dogs, allow for the transport of retiring dogs working overseas back to the United States, and provide for recognition of their service."
For more information on the ASPCA and to join the ASPCA Advocacy Brigade, please visit www.aspca.org.
Comments
comments