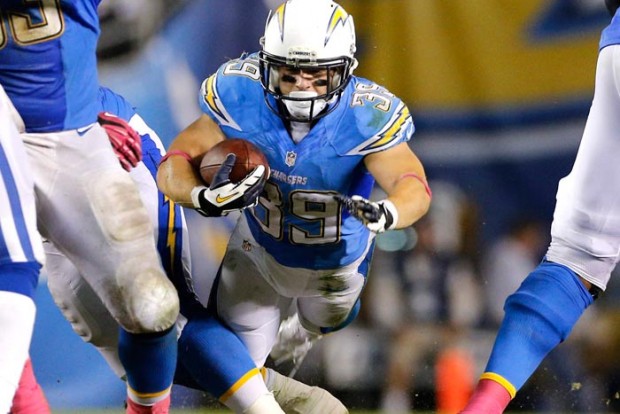 Telesco sticks to gameplan
Despite finishing third in the AFC West and one game out of the playoffs with a 9-7 record in 2014, key acquisitions via free agency and the draft have the Chargers poised for their second post-season appearance under head coach Mike McCoy.
Devestated by injuries along the offensive line and linebacker last season, General Manager Tom Telesco didn't panic and over-pay "big-name" free agents to fill the voids the team obviously had to get them back into the playoffs. Rather, much to Chargers' fans disappointment, he stuck to his philosophy of keeping his own in-house free agents and signing veterans who best fit within the Chargers scheme.
It worked before, why not this season?
During his first year in charge in 2012, there wasn't a great deal of excitement when Telesco signed the likes of King Dunlap, Eddie Royal, Chad Rinehart, Rich Ohrnberger, Danny Woodhead, Sean Lissemore, Thomas Keiser and Reggie Walker. Aside from Royal — who as a Bronco had some big games against the Chargers — fans were not impressed with the signings. However, each of these players made key contributions toward the Chargers' first playoff appearance since 2009.
Fast forward to this offseason. Telesco targeted both Dunlap and cornerback Brandon Flowers as his top priorities to retain. In addition to those signings, veterans Orlando Franklin (OG), Stevie Johnson (WR), Jacoby Jones (WR), Patrick Robinson (CB), Mitch Unrein (DT), Jimmy Wilson (S) and Joe Barksdale (OT) were brought in to help solidify the roster.
With two weeks to go before their home opener Sept. 13 against the Detroit Lions, here's a quick glance at the team as they head into their final preseason games.
Having locked-up quarterback Philip Rivers for the next four years, the big concern offensively is whether this rebuilt offensive line can keep Rivers upright throughout the season. Injuries up front and the rotation of five centers resulted in 36 sacks and Rivers playing the majority of last season with chest and back injuries.
If they can remain healthy, the team has the firepower at the skill positions to be a Top Five offense in the NFL. Last season, Rivers completed 66.5 percent of his passes for 4,286 yards and 31 touchdowns despite having no running game to speak of. With injuries to both Woodhead and Ryan Mathews, the team averaged a measly 3.4 yards per rush (31st) and finished with 1,327 yards (30th) in the NFL. First-round pick Melvin Gordon, who in three seasons at Wisconsin rushed for 4,915 yards, 49 total touchdowns and averaged 7.8 yards per carry, will carry the load for the rushing attack.
The success of the defense will hinge on its ability to stop the run and generate a pass rush. Last season they finished 29th against the run (1,986 yards), gave up 4.5 yards per rush and were 29th in sacks with just 26. Led by defensive end Corey Liuget, the Chargers must get better production from the other linemen to be successful in John Pagano's defensive scheme.
Liuget was rewarded with a five-year contract extension after leading the team with 4.5 sacks, but he can't do it all himself. The linebackers appear to have the talent to become one of the best groups in the league if they can ever stay healthy — look for this unit to step it up big-time under the direction of veteran coach Mike Nolan who replaced Joe Barry as linebackers coach. Despite the lack of impact plays on defense last year — only 18 takeaways (7 interceptions; 11 fumbles) — the unit still finished a respectable 9th in total defense and 4th against the pass.
Game Changers
With the loss of tight end Antonio Gates until week 5 because of his suspension, it is imperative the Chargers get off to a fast start like last season when they began the year 4-1. With high expectations that Gordon will be the catalyst to jump-start the running game, the focus here is on another running back that will be the difference-maker until Gates' return — Danny Woodhead.
In his first year with the Chargers in 2013, Woodhead set career-highs in all phases of his game with catches (76), yards (605), touchdown catches (6), scrimmage yards (1,034) and all-purpose yards (1,296). He finished the regular season with the most touchdown catches among all NFL running backs and the second-most receptions and receiving yards.
Like former Chargers running back Darren Sproles, Woodhead's size, speed and versatility creates favorable mismatches against any linebacker, cornerback or safety responsible for covering him out of the backfield. And with Gates out the first quarter of the season, Woodhead will be Rivers' go-to target in third down situations.
On defense, outside linebacker Melvin Ingram appears to be on a mission. With three lackluster seasons under his belt, Ingram knew it was time to make a change if he ever hoped to fulfill the expectations of a first-round draft pick. Having suffered through both knee and hip injuries that cut his last two seasons short, Ingram dropped nearly 20 pounds during the offseason going from 265 pounds down to 247 — and he's never looked better.
Through two preseason games, he's been the most explosive player on the Chargers' defense as witnessed by his two sacks and six combined tackles in the Chargers 22-19 win over the Arizona Cardinals on Aug. 22. Although injuries have limited his playing time in his short career —playing just 29 out of a possible 48 games with only six sacks — Ingram is our pick for the Chargers game changer on defense this season.
The Endzone
Opportunity lost? In dire need of offensive line help the Denver Broncos signed two-time Pro Bowl guard Evan Mathis to a one-year deal for $2.5 million (with incentives deal could reach $4 million).
Although the Chargers offensive line appears to be stronger with the additions of Franklin and Barksdale, the continuity is still a work in progress having moved D.J. Fluker to guard and Barksdale into the starting right tackle position. Did Telesco make a mistake by not going after Mathis if only to keep him away from a division rival?
Only time will tell.
Comments
comments