By Elise Cooper | September 3, 2018
Books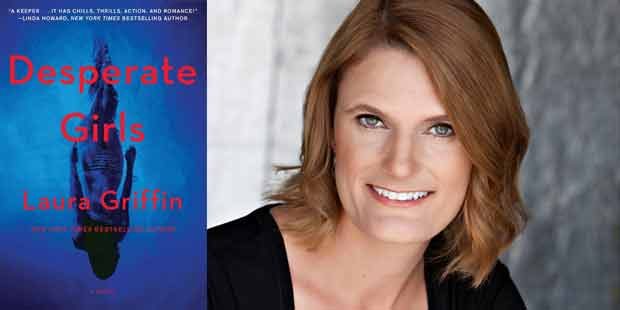 "Desperate Girls" by Laura Griffin is a captivating novel, combining a suspenseful murder mystery and police procedural with a touch of romance. She has the unique ability to write compelling plots that highlight caring and realistic characters.
Griffin was able to pull off making a defense attorney someone readers will root for.
"My dad is an attorney and I tease him about the stereotype," she said. "Also, a good friend of mine from childhood has a similar background to Brynn. She started as an assistant district attorney, working for the prosecution's side, and switched over to criminal defense work. I thought she has a fascinating career path, starting on one side and then moving to the 'dark side.' I interviewed her as a resource because I wanted the insights of someone who worked on both sides of the aisle. No matter what the profession, I try to weave the details of the job and the jargon into the story to bring it to life. Hopefully, it makes the plot and characters more realistic. Brynn's character is the checks and balance within the system. There is a need for good lawyers on both sides to have a fair system."
Former prosecutor Brynn Holloran has turned to the dark side, becoming a defense attorney. Everyone knows she is a superstar in the courtroom, although a failure in her personal life. She now must contend with a vicious murderer, James Corby, she once helped prosecute. His escape from jail has put her life in jeopardy. He seeks revenge against all those who helped put him away. Corby has already brutally killed the former lead prosecutor, Jen Ballard, and the lead detective who worked the case. To protect her, Byrnn's boss hires a private security firm that will also guard Ross, her co-counsel, who also worked for the district attorney's office. Erik Morgan, a Marine and former Secret Service agent is put in charge of her detail. Unfortunately, he soon realizes his client has trouble following orders and refuses to be dictated to. Sparks fly not only when they butt heads, each an alpha with their share of strengths and vulnerabilities, but also as it becomes clear there is an obvious attraction. A sub-plot allows readers to get behind the scenes of an intriguing court case. Both the search for the escapee and the courtroom scenes make for a riveting read.
The personalities of Brynn and Eric are well written. They are likable, believable characters. Griffin is able to balance the tension of the manhunt while allowing people to get to know the characters. Brynn is confident, self-assured, pretty, feisty, with a sharp wit that at times tends to intimidate others. Eric is loyal, protective, professional, smart and commanding, which presents a problem since both he and Brynn want to be in control. The banter between these two makes for a welcome relief from the intense plot.
"I wanted to write two very strong personalities," Griffin said. "Eric is intensely focused, while she is assertive, flashy, extroverted and smart. He is the strong, silent type that has a hard exterior but inside has vulnerabilities that he eventually shows to Brynn. He started out in the protective detail for dignitaries, while in the Marines, and moved over to the Secret Service. I interviewed someone on then-Vice President Biden's detail and tried to weave the details he told me into the story, including the long hours and travel. I also wanted to give a shout out to those in the military. Many at the Wolfe Security firm are ex-Marines. They have traits of being loyal, believing in a brotherhood, and have integrity. I wanted to show the commitment and discipline they can bring to any non-military job. I have the utmost respect for the men and women who are serving and have served."
Anyone picking up a Laura Griffin book will not be disappointed as she brings together action, romance, mystery and suspense. This first of a new series builds a tension that ends with an intriguing twist, leaving readers spellbound.
Comments
comments