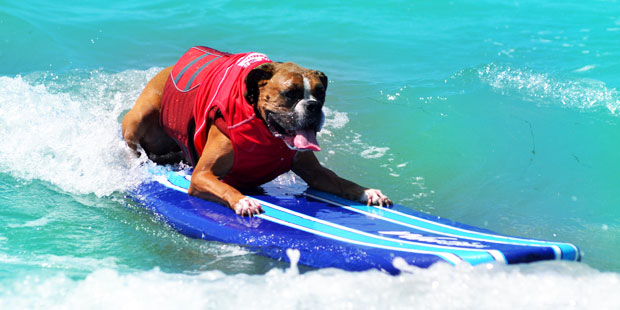 With summertime nearing its close, west-coast canines wouldn't dream of missing the singular event of the beach season – Helen Woodward Animal Center's 9th Annual Surf Dog Surf-A-thon, held at Dog Beach in Del Mar, presented by Blue Buffalo.
This year, in addition to the "hang twenty" competition, local surFURs from gromMUTTs to PAW-fessionals will cheer from the sidelines as Stand Up Paddleboarding Pups lead their very first Paddle Paws Parade!  The Surf Dog Surf-A-Thon takes place Sunday, September 7th, 2014 from 8am to 2pm PST and is certain to make some very big waves!
Helen Woodward Animal Center's canine surf contest is the largest of its kind in the country and will feature more than 80 dogs surfing in four different weight class competitions.   Winners are selected based upon their ability to ride the waves, have fun and stay on their boards.  Keeping their eyes on the prize, "Top Surf Dog 2014"-hopefuls have attended recent Center Surf Dog classes with tail-wagging enthusiasm in hopes of grabbing the coveted title on the big day.  Each surFUR heat will be judged by celebrities, surf pros and aficionados.
Other dog-and-family friendly activities scheduled at the September 7th Surf Dog Surf-A-Thon include the Beach Bum Bikini Babe Canine Costume Contest; over 70 interactive vendor booths including some of the top brands of pet products and surf gear; and a Special Kid's Activity area – with crafts, face painting, games and more!
Also on the roster, for the very first time, Stand Up Paddle "Pawers" will have the opportunity to show off the hottest new dog sport hitting the water.  Helen Woodward Animal Center, is leading the pack with this PUPular new canine-craze by hosting a Paddle Paws Parade beginning at 10:15am on the day of the competition.  Laura Nativo, Pet Trainer, Pet Lifestyle Host of Hallmark Channel's Emmy-Nominated Series, Home & Family, and Stand Up Paddleboarding (SUP) Semi Pro will serve as Paddleboard Ambassador, leading the parade along with her Pomeranian SUP-ing pup, Preston.
The event has a lot to celebrate in its 9th year as supporters, sponsors and families of individual canine athletes have called "all paws on deck" in an incredible push for participation and fundraising, which to-date has already raised thousands.  Many pooches who are "paw-ing it forward" by raising funds will sport blue "Rescue Hero" bandanas at the event to show their commitment to their fuzzy friends still awaiting forever families back at the Center.
There's still time to register your favorite, four-footed, "paw-some" surfer.  Surf Dog Heats cost $35 per registered pup and 1st, 2nd, and 3rd place winners will be awarded for each weight class with the top winners from each category invited back to surf in a final "Best in Surf" at 1pm.  SUP-loving attendees are invited to join the Paddle Paws Parade for a $10 entry fee and furry fashionistas can enter the costume contest for only $10 per dog. All proceeds from the annual competition and festivities go towards the pets and programs at Helen Woodward Animal Center.
Helen Woodward Animal Center invites Southern California dogs to climb "on board."  For more information on the Surf Dog Surf-A-Thon or to register your dog as a surf competitor, visit www.animalcenter.org or call 858-756-4117 x 350.  You may also stop by Helen Woodward Animal Center at 6461 El Apajo Road, Rancho Santa Fe in Rancho Santa Fe.
For those 'land lovers' who may live too far away to attend, the dog surfing portion of Surf Dog Surf-A-Thon will be broadcasted via livestream at www.ustream.tv/channel/surf-dog-surf-a-thon, or by downloading the Ustream app to your phone or tablet.
Comments
comments