By Elise Cooper | September 18, 2018
Books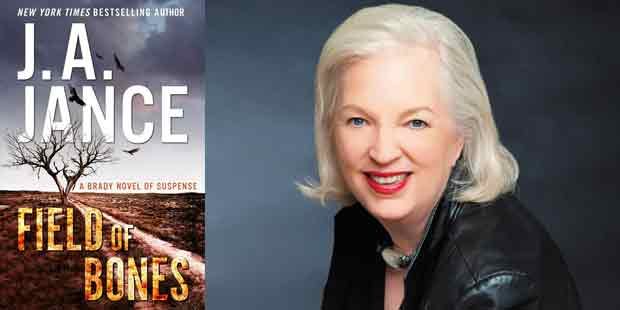 "Field of Bones" by J. A. Jance is an intriguing dark mystery. Jance shows why she is such a prolific writer, able to balance the gruesome case with the added personal life of Brady, that at times offers comic relief.
The book begins as Sheriff Joanna Brady is waiting for election results. Threatening to derail her re-election are personal tragedies and her pregnancy. This third time up for election, it appears the vote count will be close. But the baby had other plans and chose to come before all the votes have been counted. Luckily it became a night for celebration after Eleanor Sage was born and Joanna was re-elected.
The comic relief comes into play as she tries to juggle being a stay at home mom and finding information about the case. Joanna is not a happy camper when she finds out that those in the sheriff's office are taking bets as to when she will return to work, as she shows signs of restlessness from the maternity leave. Because of this premise Joanna becomes a secondary character in the story.
"She had to be one because she was on maternity leave," Jance said. "What tickled me is that everyone was placing bets how long she would last. Normally Butch, her husband, is a stay at home dad, but he was on a book tour. When I started writing about Johanna she had children and worked such ungodly hours. There needed to be somebody at home to help with the children. I made the decision to bring Butch into the story so, for most of the time, he could be a stay at home dad."
This is contrasted with the case itself. A serial killer kidnaps women, rapes them, violently brutalizes them and then kills them. The police find out about someone known as "the Boss" after a mother brings her son into the sheriff's office with a human skull shot in the head. He leads the police to where he found it. They discover several corpses including one that has been dumped recently. Realizing that "the Boss" could be holding more victims there is a race with the clock to find them before they are killed.
"I really liked Latisha," Jance said. "She was one of the women being held by the killer and a very sympathetic character. In the beginning she was naïve, but through the process of this horrible ordeal became very determined, mature, and responsible. Another character I really like is the new deputy, Garth. I think he will be back in future stories. I based him on those in law enforcement who told me over and over that people go into law enforcement for a reason. This is a decision they make with their hearts and their souls. He was influenced by Joanna's kindness. She came to his grandfather's funeral and personally gave the information to his grandmother about what happened."
As with any Jance book, readers are treated to beloved characters, small town charm, vibrant history, a captivating mystery, and the scenic Arizona desert backdrop. Luckily, Brady was re-elected so there will be more adventures and cases for her in the future.
Comments
comments