Your dentist can provide a list of foods to steer clear of if you're looking to avoid cavities, staining, and enamel loss. But did you know there are certain foods you can eat that will actually help keep your mouth healthy?
Nutritionist Karen Krchma and Dr. Shawn Frawley, along with the American Academy of Cosmetic Dentistry (AACD) have developed recipes incorporating foods that benefit oral health in a free "Recipes for a Healthier Smile" e-booklet. Use these food tips and try a delicious recipe from these experts to ensure you receive a healthy report during your next trip to the dentist.
For healthy gums
* Wild salmon – Omega 3 reduces inflammation
* Basil – Natural antibiotic, reduces mouth bacteria
To prevent enamel loss
* Quinoa – Calcium-rich, good for bones and teeth
* Onions – Sulfur compounds may kill streptococcus bacteria that can cause tooth decay
* Broccoli – Iron may create a protective barrier, shielding teeth from acidic foods and drinks
For white teeth
* Pineapple and vitamin C-rich foods – Act as natural "whiteners"
To avoid cavities and plaque
* Shiitake mushrooms – Prevent oral bacteria from creating dental plaque
For a complete list of recommended foods for oral health, and to download a free copy of the recipe e-booklet, visit www.aacd.com/smilerecipes.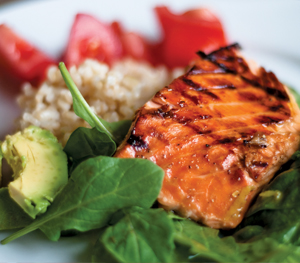 Wild Salmon and Quinoa
Yield: 2 servings
Salmon:
2 6 to 8 ounce wild salmon filets
Sea salt
Fresh cracked black pepper
1 tablespoon fresh dill, chopped
1 tablespoon grape seed oil
Marinade:
2 tablespoons fresh lemon juice
1 tablespoon grape seed oil
1/4 teaspoon fresh cracked black pepper
1/4 teaspoon salt
1 clove garlic, minced
1/2 teaspoon fresh grated ginger or 1/8 teaspoon ground ginger
1/2 teaspoon agave nectar
Quinoa Pilaf:
1 cup quinoa
1 1/4 cups chicken stock
1 medium onion, finely diced
3 stalks celery, finely diced
1 tomato, finely diced
3 teaspoons grape seed oil (1 teaspoon for sautÈing, 2 teaspoons to dress quinoa)
1 teaspoon fresh thyme, chopped
Season both sides of salmon with salt, pepper and chopped fresh dill. Let salmon come to room temperature.
Combine all ingredients for marinade; mix thoroughly.
Soak quinoa in room temperature water for at least 15 minutes. Rinse and strain quinoa. Bring chicken stock up to boil, add quinoa; reduce to a simmer. Cook for approximately 30 minutes. (Alternatively, you can add the chicken stock and rinsed and strained quinoa to a pressure cooker and cook for approximately 6 to 8 minutes.)
While the quinoa is cooking or soaking, finely dice onion, celery, and tomato. In large sautÈ pan, add 1 teaspoon oil; sautÈ onion and celery until they are translucent, about 2 to 3 minutes. Add tomato; stir and turn off heat.
Add cooked quinoa to vegetables in sautÈ pan. Strip thyme leaves off stem with fingers and rough chop. Add thyme to quinoa along with enough grape seed oil to lightly coat quinoa (approximately 2 teaspoons). Cook at medium heat while stirring for 1 to 2 minutes and keep warm.
Heat cast iron skillet on medium heat. Place small amount of grape seed oil in skillet. Place salmon in skillet skin-side down. Cook for approximately 4 minutes while basting fish with marinade every 30 seconds. Turn heat up to medium-high and turn fish over; cook for another minute. Adjust cooking time based on thickness of salmon.
Serve salmon immediately with approximately 3/4 cup of quinoa.
Comments
comments