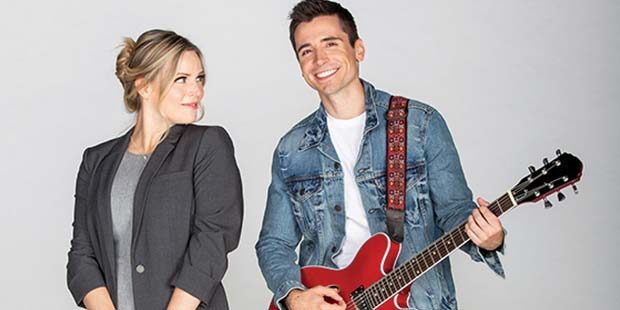 Huey Lewis and the News launched their first album in 1980, and with the release of their third album, "Sport," in 1983, Huey Lewis and the News became pop icons and a mainstay on the MTV video rotation (when MTV used to play music videos). To this day, Huey Lewis and the News remains one of the defining bands of the '80s.
That spirit of those heady days of youth where achieving all your dreams are possible is captured as the Old Globes kicks off its 2018–2019 season with the World Premier of the musical comedy "The Heart Of Rock & Roll," inspired by the songs of one of the most beloved and iconic acts in music history, Huey Lewis and the News. The Heart Of Rock & Roll opens on Sept. 14 and runs through Oct. 21.
The story goes like this: Bobby and his band are hustling for their big break on the Chicago dive bar circuit. But after their latest rejection, Bobby decides it's "Hip to Be Square," trades in his guitar, and starts "Workin' for a Livin'" in corporate America.
His boss, Cassandra, is having struggles of her own having sacrificed her personal life to climb the company ladder.
When they both get a shot at their dreams — for Bobby, another crack at rock stardom, and for Cassandra, a chance to become the CEO — they must decide "If This Is It" for their careers, or if "The Power of Love" triumphs over all. "The Heart of Rock & Roll" celebrates the classic songs of Huey Lewis and the News in this heartwarming and hilarious new musical which is fun for the whole family.
"The Heart of Rock & Roll" plays on the Donald and Darlene Shiley Stage at the Old Globe Theatre Conrad Prebys Theatre Center in Balboa Park with performances running Tuesday through Sunday evenings with a 2 p.m. matinee on Saturday and Sunday's.
Tickets start at $52, however active duty personnel and their families as well are retired veterans can get tickets starting $24 by using the code Blue Star when ordering.
Tickets are available by phone by calling (619) 234-5623, or online at www.theoldglobe.org. For more information, visit the Old Globe's website or Facebook page.
Comments
comments