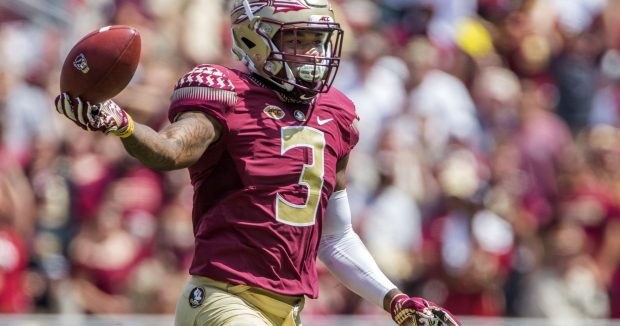 Although you can't really judge a draft class until the players prove their worth on the field, every year pundits give letter grades to each team in the days following the draft. Despite not drafting a quarterback (which many believed the Chargers would), General Manager Tom Telesco and the front office received high reviews from many of the top NFL analysts for the players they selected. Rather than focusing on just the Chargers, in this issue, we look at how DraftWire graded the entire AFC West with comments from reporters Luke Easterling and Chris Thompson.
Luke Easterling:
Los Angeles Chargers — B+
When you get a top-five prospect (Derwin James) at No. 17 overall, that's getting a draft off on the right foot. The Bolts got more value with a similar player in the fourth round (Kyzir White), along with some versatility and toughness for the front seven in between those two picks (Uchenna Nwosu, Justin Jones).
Getting Justin Jackson in the seventh round was one of this year's better bargains at running back, and while Scott Quessenberry is a solid depth piece, the Chargers really needed a tackle with some starter upside out of this class, not more interior help. Dylan Cantrell is solid, but there were so many better options on the board at receiver. Still, James alone is enough to carry this group.
Denver Broncos — B
Things started out great with Bradley Chubb and Courtland Sutton, who were great value picks, even if they didn't fill their biggest needs. It was a roller-coaster from there, with head-scratching picks (Isaac Yiadom in the third) sandwiched in between a steal or two (DaeSean Hamilton in the fourth was fantastic).
Overall the value after the first two picks just didn't stay at the same level, and their needs at corner and interior defensive line weren't adequately addressed. Chubb and Sutton will have to carry this group, but they're up to the task.
Kansas City Chiefs — C-
When you don't have a first-round pick, it puts that much more pressure on every other selection, both in terms of addressing needs and getting proper value. While there were some value picks along the way (Derrick Nnadi, Armani Watts), this group had a high percentage of head-scratching picks. They waited too long to address the corner spot, and a sixth-round pick isn't likely to fill the void left behind by Marcus Peters. No edge rusher, and they needed a bigger, more physical choice at linebacker to replace Derrick Johnson. Breeland Speaks in the second round was a luxury pick this team couldn't afford without a first-day pick.
Oakland Raiders — D+
Jon Gruden and company may have landed the biggest steal of the entire draft with Maurice Hurst in the fifth round, and even that's not enough to save this grade (he's the plus). After reaching for one raw offensive tackle in the top 15, they did it again at the top of the third round. In between those picks, they opted for a small-school defensive lineman who should have gone a couple of rounds later.
Arden Key's upside was worth the risk later in the third, and Marcell Ateman was a bargain in the seventh, but the rest was as off-the-wall as you might expect Gruden 2.0's first draft to be. They even took a punter in the fifth round.
Biggest Losers?
While Easterling gave the Broncos and Raiders draft class a letter grade of B and D+ respectively, Chris Thompson believes both organizations were amongst the losers in the 2018 draft.
Chris Thompson:
Denver Broncos
This could be a winner for the future but as of today, it's hard to understand several of the Broncos picks. While Bradley Chubb was a star selection in the first round, Denver had several needs to address on the offensive side of the ball if they truly wanted to compete in 2018. Offensive guard and tackle have been two major needs for Denver after an abysmal 2017 season.
With several quality linemen still on the board, naturally, the Broncos went for offensive weapons and ignored their line needs by selecting wide receiver Courtland Sutton and running back Royce Freeman.
Sutton is a big-bodied receiver that can be a major threat in the red zone by boxing out cornerbacks. Still, Denver has a pair of quality receivers in Demaryius Thomas and Emmanuel Sanders, they'd also drafted Carlos Henderson to play outside last year.
Freeman is decent running back with solid vision in the open field but comes with an injury history and was heavily used in Oregon's offense over the past four seasons. The offensive line needs have still not been addressed and heading into day 3, there's little promise for a game 1 starter. Both Sutton and Freeman might pan out but behind that offensive line, the Broncos will still have the same misfortunes.
Oakland Raiders
The John Gruden era is not starting off well in Oakland. After trading back and selecting UCLA tackle Kolton Miller, Oakland went to the other side of the ball and selected a defensive tackle when they selected Sam Houston State's PJ Hall.
Hall is a quality defensive tackle but likely was a day 3 selection. A good athlete but a small frame, Hall might be best used in sub package formations rather than become a three-down player.
In round three, after trading up with the Ravens, the Raiders once again added another offensive tackle, this time in the form of Brandon Parker. While Parker's size and the overall frame fits what teams look for in an NFL tackle prospect, his footwork is horrendous while his inability to deliver a proper punch makes him a project for the future. Both these players could have been selections for the Raiders on day 3.
LSU's Arden Key might be a decent pickup if he could return to 2016 form but overall, there's been too many reaches by the Raiders in the first two days of this draft.
Undrafted Free Agents (UFAs)
In addition to assigning a letter grade to each of the 32 teams' draft classes, Pro Football Focus (PFF) also listed 10 UFA's it expects to make an impact on their respected teams this upcoming season.
One of the players mentioned is Texas Tech QB Nic Shimonek who signed with the Chargers as a UFA following the draft. Whether he gets cut, becomes an NFL journeyman quarterback or eventually replaces Philip Rivers as the starter remains to be seen. However, the staff at PFF likes Shimonek's chances of making it in the NFL.
PFF — "After deciding against drafting a quarterback through the first seven rounds, the Los Angeles Chargers brought in a former Texas Tech quarterback Nic Shimonek, our 11th-ranked signal-caller in the class, as an undrafted free agent. And despite his draft status, he has a strong chance to be much more than a camp arm.
"While Big-12 defenses may have inflated his collegiate production, Shimonek ranked inside the top-five among draft-eligible quarterbacks in overall adjusted completion percentage (771.), adjusted completion percentage against the blitz (77.8) and deep-pass adjusted completion percentage (58.8) in 2017, metrics independent of defenses and rather more indicative of the quarterback individually. He also earned a career-high 86.3 overall grade this past season, ranking 18th among qualifying FBS quarterbacks."
The Endzone: A few days after the draft, ESPN Draft Analyst Mel Kiper Jr. listed six rookies (three on offense and three on defense) drafted in Round 1 whom he felt would become instant impact players. For Kiper, safety Derwin James fits the bill, "This might be the steal of the draft. Chargers defensive coordinator Gus Bradley coached Kam Chancellor in Seattle, and James has the same kind of traits. He's fast. He's physical. He can play multiple positions. I expect James to step in at strong safety on a defense already loaded, with pass-rushers Joey Bosa and Melvin Ingram. Los Angeles did allow 4.9 yards per carry last season, which ranked last in the league, but James should help in run support."
Comments
comments