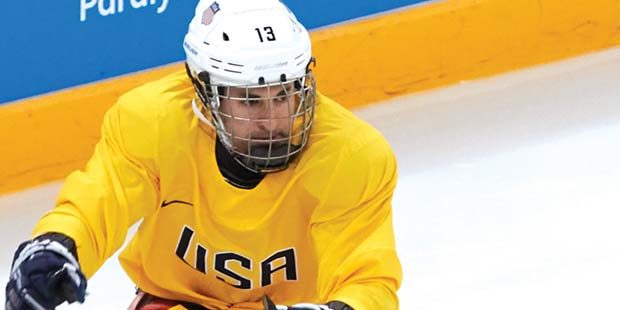 The 2018 Paralympic Winter Games are underway in PyeongChang, South Korea. There are 18 Veterans among the 74 athletes representing Team USA at the Games, including eight Marines, seven Army Veterans, two Navy and one Air Force Veteran. VA supports many of them through the Veterans Monthly Assistance Allowance, which provides a monthly stipend for disabled Veterans training in Paralympic sports. Many of these Veterans have participated in VA's national rehabilitation events managed by the Office of National Veterans Sports Programs and Special Events.
Here's a look at the Marine and Navy vets representing the United States at the games.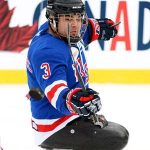 Ralph DeQuebec, Marine Corps, sled hockey
First-time Paralympian
Served as an explosive ordinance disposal technician with 1st Marine Special Operations Battalion, including two tours in Afghanistan and one tour in Iraq
Ralph DeQuebec was injured by an IED while serving in Afghanistan in 2012. This resulted in bilateral above the knee amputations for the Marine Corps soldier. He is the recipient of a Purple Heart.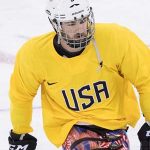 Travis Dodson, Marine Corps, sled hockey
Two-time Paralympian
Wounded while serving with 2nd Battalion, 3rd Marines in 2007 in Haqlaniyah, Iraq
Travis Dodson, a Marine, was struck by a grenade tossed into his room where he was staying in Iraq in February 2007. He lost his left leg and the hip and right leg below the knee. For his service, Dodson received a Purple Heart. While a student at University of Illinois Urbana-Champaign, he became involved with several adaptive sports, including sled hockey. He competed in Nordic skiing at the Sochi 2014 Paralympic Winter Games.
Luke McDermott, Marine Corps, sled hockey
First-time Paralymian
Served two tours in Afghanistan
Luke McDermott was injured by an IED while on patrol in Afghanistan in June 2010 with the 1st Battalion 6th Marines. He began his sled hockey career while being rehabilitated at the Center for the Intrepid when his physical therapist asked if he would be interested in playing. He made his U.S. national team debut in 2015.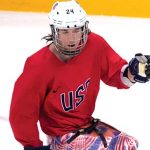 Josh Misiewicz, Marine Corps, sled hockey
First-time Paralympian
Introduced to sled hockey in 2012 while recovering at Walter Reed National Military Medical Center
While serving in Afghanistan with the 1st Battalion 5th Marines, Josh Misiewicz was injured by an IED resulting in a double above-knee amputation. He was introduced to sled hockey by a friend that plays for the USA Warriors Sled Hockey Team and ended up making the team, playing three seasons with the Warriors.
Dan Cnossen, Navy, Nordic skiing
Two-time Paralympian
Former Navy SEAL and graduate of the US Naval Academy
Dan Cnossen graduated from the Naval Academy in 2002 and served until 2009. While platoon commander for SEAL Team One in Afghanistan, he stepped on an IED and lost both of his legs above the knee. Dan rehabilitated at Bethesda National Naval Medical Center and later at Walter Reed National Military Center where he learned to walk again with prosthetic legs.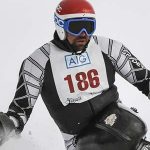 Josh Elliott, Marine Corps, Alpine skiing
Began monoskiing in December 2011, eight months after suffering serious injuries while on patrol in Afghanistan
First-time participant at VA's National Veterans Summer Sports Clinic in 2017
Josh Elliot joined the Marine Corps in 2002 as a combat engineer. He stepped on an improvised explosive device in 2011 on a routine patrol in Afghanistan. This incident resulted in both of his legs being amputated and losing three fingers. He recovered at Walter Reed and the Navy Medical in San Diego. Josh started monoskiing with Disabled Sports USA, which helps wounded warriors and people with disabilities participate in adaptive sports, in December 2011.
Kevin Burton, Navy, Alpine skiing
Two-time Paralympian
Fluent in Arabic and served as an Arabic linguist with the Navy
In March 2012, participated for the first time at VA's National Disabled Veterans Winter Sports Clinic in Snowmass Village, Colorado
Kevin Burton served in the Navy from 2002 until 2011. He medically retired three years after being diagnosed with a degenerative eye disease, retinitis pigmentosa. In 2014, he competed in Nordic Skiing in the Winter Paralympics. Kevin credits the U.S. Association of Blind Athletes, VA and Ignite Adaptive Sports at Eldora for supporting him in the beginning and as his skiing career progressed.
James "Jimmy" Sides, Marine Corps, Snowboarding
First-time Paralympian
Injured in Afghanistan in 2012, and began Paralympic-level training in 2015
Jimmy Sides served as an explosive ordnance disposal technician in the Marine Corps. He was trying to disarm an IED in Afghanistan when it exploded. This resulted in losing sight in his left eye and the amputation of his lower right arm.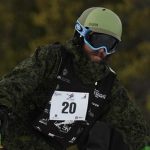 Michael Spivey, Marine Corps, Snowboarding
First-time Paralympian
Deployed to Iraq and Afghanistan
Served as a combat engineer in the Marine Corps
Michael Spivey served in the Marine Corps as a combat engineer and deployed to Iraq and Afghanistan in 2007 and 2010. While in Afghanistan in December 2010, he was injured by an IED. Michael did his rehabilitation at Naval Medical Center San Diego, where he was encouraged to participate in sports as part of his recovery. He began snowboarding in 2014.
Comments
comments