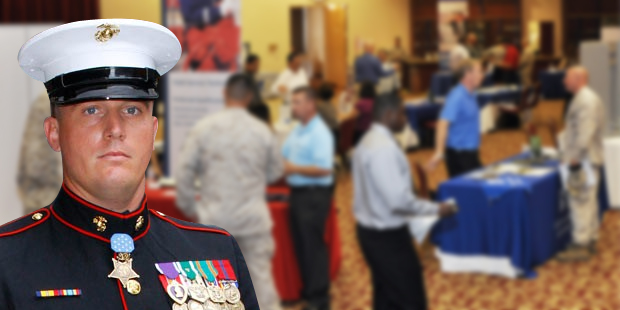 U.S. Chamber Foundation and Medal of Honor Recipient  Sgt. Dakota Meyer to Join Senior Military and Government Officials for Camp Pendleton Jobs Summit
Event to Join Government, Business, and Community Leaders with Active-Duty, Veterans, and Military Spouses; Job Fair to Include More Than 100 Employers
The U.S. Chamber of Commerce Foundation, along with lead partners Toyota, Call of Duty Endowment (CODE), and University of Phoenix, will join Medal of Honor Recipient Sgt. Dakota Meyer, the U.S. Department of Veterans Affairs, the U.S. Department of Labor, and the U.S. Marine Corps to host the Camp Pendleton Jobs Summit. For two days, business and civic leaders will gather to develop and strengthen military hiring initiatives across the country. This summit – primarily focused on supporting transitioning service members – is part of a series of collaborative efforts between the public and private sectors to connect veterans, transitioning service members, and military spouses to meaningful employment opportunities. The past three summits have been held on Army installations, but the Camp Pendleton event will mark the debut of these summits on a Marine Corps base.
Sgt. Dakota Meyer, who received the nation's highest military honor for his actions in the Battle of Ganjgal in Afghanistan in 2009, will take advantage of the summit to launch a nationwide employment education tour for transitioning service members. In addition to leading two transition workshops for Marines preparing to leave the military, Sgt. Meyer will also have intimate conversations with service members and meet with base leadership to discuss ways to improve the transition process. This tour is part of Sgt. Meyer's work with Toyota and Hiring Our Heroes on the Personal Branding Initiative, a set of programs and tools developed to help veterans and transitioning service members market their military experience to civilian employers.
"

"I am honored to have the opportunity to share insight from my own experiences with transitioning service members at Camp Pendleton and across the country," said Sgt. Meyer. "Working with Toyota and Hiring Our Heroes on the nationwide education tour will allow me to continue helping our military men and women as they prepare for their transition to the civilian workforce."
Day One of the summit will feature interactive forums led by senior military officers, public officials, and business innovators on developing strong military recruitment strategies, dispelling myths about veteran hiring, and encouraging participants to share their own company or community's best practices with key government agencies and decision-makers as well as a networking reception. At the reception, attendees will have the chance to meet and interact with local and national business leaders, recruitment heads for national companies, and veteran and military spouse service agencies. Day Two will allow hundreds of service members preparing to transition into the civilian workforce to hear directly from federal and state service agencies as well as veteran-friendly employers about the career resources, training, and opportunities available to help them.
The event will culminate in a Hiring Our Heroes job fair for veterans, transitioning service members, National Guard, reserve components, and military spouses. More than 100 employers are expected to participate with jobs available for attendees of all ranks and levels of experience. Since Hiring Our Heroes began in March 2011, more than 1,500 companies have hired 24,000 veterans and military spouses as a result of more than 770 hiring fairs.
Registration for this free event is open to all interested military, federal, and state agencies; community leaders; and businesses and employers looking to hire veterans.
SPEAKERS:
Sergeant Dakota Meyer, Marine veteran and Medal of Honor recipient
Eric Eversole, Vice President, U.S. Chamber of Commerce & Executive Director, Hiring Our Heroes, U.S. Chamber of Commerce Foundation
Don Esmond, Co-Chair, Hiring Our Heroes' Veterans Employment Advisory Council, U.S. Chamber of Commerce Foundation
Rosye Cloud, Senior Advisor for Veteran Employment, U.S. Department of Veterans Affairs
Maarla Milligan, Assistant Director, California, U.S. Department of Labor Veterans Employment and Training Service
John Ramirez, USA CSM (ret.), Dean of Operations for School of Advanced Studies, University of Phoenix
Bridgette Tuquero, Operations and Logistics Manager, Uber
WHAT:
Camp Pendleton Jobs Summit
Day One: Business and Civic Leader Forums
Wednesday, September 17, 2014
5:30 P.M. Interactive Forums & Panel Discussions
6:30 P.M. Networking Reception
Day Two: Employment Workshops and Hiring Fair
Thursday, September 18, 2014
10:00 A.M. Employment Panels & Workshops for Job Seekers
1:00 P.M. Hiring Fair
Free registration is available online at www.hiringourheroes.org.
WHERE:
Pacific Views Center
Bldg. 202850
San Jacinto Road.
Camp Pendleton, CA 92055
This hiring event is being conducted by the U.S. Chamber of Commerce Foundation, U.S. Marine Corps Camp Pendleton, Marine and Family Programs, Marine Corps Community Services (MCCS), the U.S. Department of Veterans Affairs, the U.S. Department of Labor, -, the White House's Joining Forces Initiative, and other key partners.
The U.S. Chamber of Commerce Foundation (USCCF) is a 501(c)(3) nonprofit affiliate of the U.S. Chamber of Commerce dedicated to strengthening America's long-term competitiveness by addressing developments that affect our nation, our economy, and the global business environment.
Comments
comments