Download Military Press Media Kit
Just A Short Note About The Military Press
The Military Press is the largest military news, sports and entertainment tabloid in California, with a distribution network that reaches over 200,000 military personnel every two weeks.
Our readers utilize us as a reference for things to do, places to go and services needed. Their guaranteed income represents California's largest money market and your business will grow by remembering the military and their families in your monthly budget considerations. We service:
• All military bases, with 40-50 stops at each base, ie. exchanges, commissaries, credit unions
• All in-port ships – hundreds of papers in the galleys and racks
• Off-base and on-base housing including the barracks
• We have racks lining the streets neighboring the bases at restaurants, liquor stores, barber shops and gas stations
• Major shopping centers and malls, reaching civilians as well as military
• VA Hospitals – in the waiting rooms and lobbies
We have two publications, differentiated by zone:
Zone 1 – San Diego County;
Zone 2 – L.A./Orange and Riverside Counties

WE REACH OUR ENTIRE MARKET ON OR THE DAY BEFORE PAYDAY!
Military Press Facts
The Military Press is a direct pipeline to all branches of the military in California — Navy, Marines, Army, Air Force and Reserves. A bi-monthly publication distributed FREE to all military. The Military Press reaches all bases, in-port ships, key housing areas and VA Hospitals. We have newsracks in civilian high-traffic areas as well.
Circulation
We divide California into zones for distribution.
Zone 1 is San Diego, with a distribution of 50,000.
Zone 2 is Riverside / San Bernardino, Los Angeles and Long Beach with a distribution of 25,000.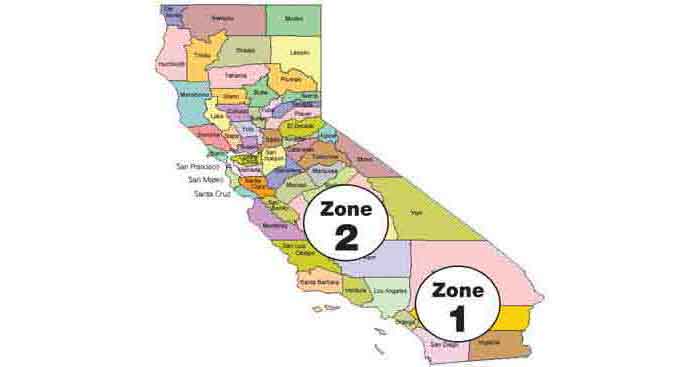 ZONE 1
32nd St. Naval Base
Navy Amphibious Base Coronado
Fleet Anti-Submarine Base
Imperial Beach Helicopter Base
Marine Corps Recruit Depot San Diego
Marine Corps Air Station Miramar
Naval Air Station North Island
Navy Submarine Base
Naval Medical Center Balboa
All In-Port Navy Ships
VA Hospital
Marine Corps Air Station Miramar
Marine Corps Base Camp Pendleton
ZONE 2
Los Alamitos Joint Forces Training Base
Navy-Marine Corps Reserve Center Los Angeles
Los Angeles Air Force Base
March Air Reserve Base
Edwards Air Force Base
National Training Center Fort Irwin
Marine Corps Logistics Base Barstow
Naval Warfare Assessment Station Corona
MCAGCC Twentynine Palms
Naval Air Facility El Centro
Naval Weapons Station Seal Beach

FORMAT
The Military Press headlines Military News, VA information, Sports, Music and Entertainment. Other sections include Health & Fitness, Seniors, Concert Connection, and a huge classified section. We also have special promotions throughout the year, such as Air Show editions, Coloring Contests, Combined Federal Campaign, and various holiday issues. We have a very diverse readership that includes military and civilians. We offer our readers entertainment and information in one publication. We showcase advertisers that we feel respect and appreciate the military market and have a good service or product to offer at a fair price.

TIMING
The Military Press knows that when making purchases, timing is extremely important. That makes the timing of advertising just as important. That is why we deliver our papers on or the day before military paydays. This is normally the 14th day and the last day of the month. As with all consumers, when they have money in their pockets, they look for ways to spend it. To advertise a special discount or event on weeks when the military have no paychecks might not be so effective. Since the military is paid only twice a month, we make sure our papers are out there when they need them-and will use them.
Advertising Rates
Frequency Contracts Must Run Consecutive Issues
Rates shown are per issue. Each issue is in the stands for 2 weeks

ZONE 1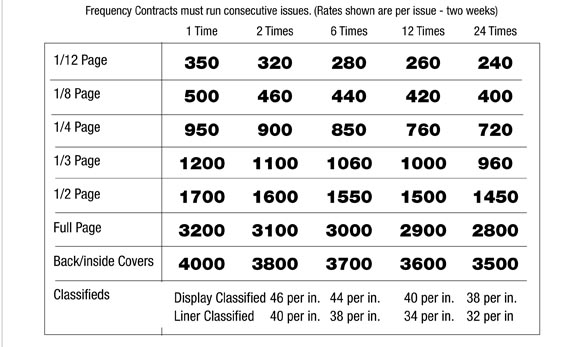 ZONE 2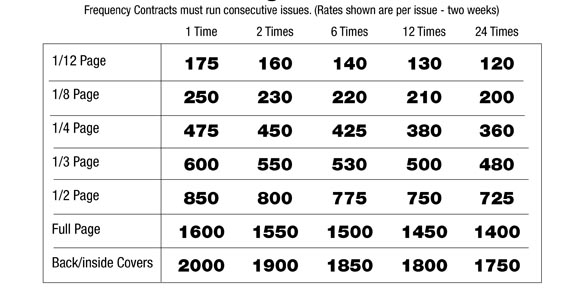 Ad Sizes
(Columns are not SAU. Measure is width x depth)
MECHANICAL INFORMATION
Size Tabloid (10.25 x 14")
Format Non-SAU Four Column Tabloid
Printing Web Offset
Fine Print

Guaranteed Positioning Add 20% to earned rate only. 1/4 page & up, if available.
Process Color Add $275 per color. (Non Commissionable)
Inserts $50/M, single sheet, prepaid. (Rate can vary depending on size and weight.) Client provides finished product for insertion.
Agencies Recognized Advertising Agencies, please call for commissionable rate card.
Credit and Payment Policy All advertising is accepted on a cash-with-copy basis unless an approved credit application is on file. All invoices not paid within 30 days will be charged interest at the rate of 11/2% per month, and forfeit any discounts and / or commissions.
Liabilities Advertising not cancelled by advertiser within 72 hours prior to publication will be charged for said advertising space whether ad appears in space or not. Correction of ads or proofs must be completed by advertiser by deadline dates or ad will run "as is" and accounts will be billed accordingly. Ads received the wrong size will be rebuilt to size. Publishers reserves the right to reject any advertising. Advertiser agrees to accept all liabilities resulting from the content of their ad. Military Press' liability for errors or omissions in advertising copy shall not exceed the amount of charges for the copy omitted or the space occupied by the error, nor shall errors of omissions cancel obligation for payment. Claims for correctness must be made within 3 days from publication. Advertiser will receive appropriate make-good credit once the cost of the error or omission has been determined.
Frequency Contracts Any frequency contract cancelled before its completion will be prorated based on the rate of total times actually run.
Ad Submissions High resolution .pdf, .eps, or .jpg files with fonts and high resolution images embedded, if applicable. Graphics charge may apply for files that don't meet specificaitons or require significant additional manipulation (e.g. color correcting, resizing).
Uploading Ads E-mail to advertising@militarypress.com.
2014 Deadlines
Jan. 15, 2014: Jan. 10, Noon
Feb. 1, 2014 : Jan. 28 , Noon
Feb. 15, 2014 : Feb. 11, Noon
March 1, 2014 : Feb. 25 , Noon
March 15, 2014 : Mar. 11, Noon
April 1, 2014 : Mar. 27, Noon
April 15, 2014 : Apr. 10, Noon
May 1, 2014 : Apr. 28, Noon
May 15, 2014 : May 12, Noon
June 1, 2014 : May 27, Noon
June 15, 2014: Jun. 10, Noon
July 1, 2014 : Jun. 26, Noon
July 15, 2014 : Jul. 10, Noon
Aug. 1, 2014 : Jul. 29, Noon
Aug. 15, 2014 : Aug. 12, Noon
Sept. 1, 2014 : Aug. 26, Noon
Sept. 15, 2014 : Sep. 11, Noon
Oct. 1, 2014 : Sep. 26, Noon
Oct. 15, 2014 : Oct. 10, Noon
Nov. 1, 2014 : Oct. 28, Noon
Nov. 15, 2014 : Nov. 11, Noon
Dec. 1, 2014 : Nov. 25, Noon
Dec. 15, 2014 : Dec. 11, Noon
Jan. 1, 2015 : Dec. 18, Noon

ADVERTISE WITH THE MILITARY PRESS NEWSPAPER
Email us or call 800-369-9606 for more information.
Comments
comments