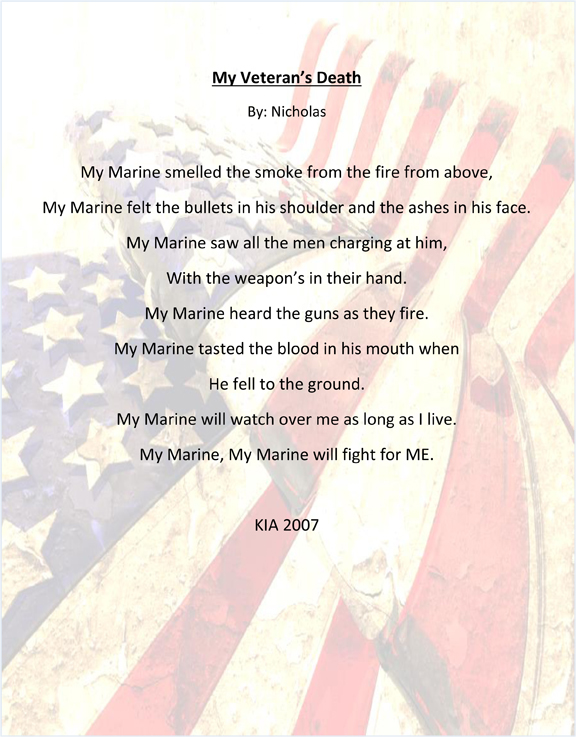 My name is Vicki Melia, My son served in the Marine Corps at Camp Pendleton with 2nd Battalion, 4th Marine Regiment. A day my family will have etched in our hearts forever, was when the Marine's knocked on our door the evening of January 26, 2007 to inform us that our son L.Cpl. Anthony Melia had lost his life in Ramadi, Iraq.
We didn't realize in all the sorrow, what actually was being experienced by our 4 yr. old grandson Nicholas. Not having a father figure in his life, Nick loved his Uncle Tony! He lived the moment, life through the years after, and now today, Nick's mom has married, he has a 3 yr. old sister and has the father (an enlisted Sgt. with the Army) he was always hoping for. They are currently stationed in Germany.
Nicholas is now 11. His class was asked to write a poem for Veteran's Day and to include 5 senses. His mother didn't help nor did she even know what he had written. It was announced, Nicholas was asked to read his poem at the assembly, that was being held on base for Veteran's Day. Much to his parents surprised, his poem had brought many tears to the eyes of these military families that had attended.
It never seizes to amaze me, the effect "the heroes of our country" have left on even the youngest of children! Nicholas is typically shy in nature, but on this day he presented his writing; He stood proud and spoke with conviction in remembering his Uncle Tony and the fight he fought for our safety. A poem you would never expect from a young boy! We are very proud that our sons legacy will continue to live in the young hearts of America.
Attached is the poem by Nicholas. My thought was maybe it could be shared in the press to honor our Veterans.
Respectfully,
Vicki Melia
In loving memory of
L.Cpl. Anthony Melia
2nd Battalion, 4th Marine Regiment, Fox Company, 15th MEU
Ramadi, Iraq
Aug. 1986 ~ Jan. 27, 2007
Comments
comments