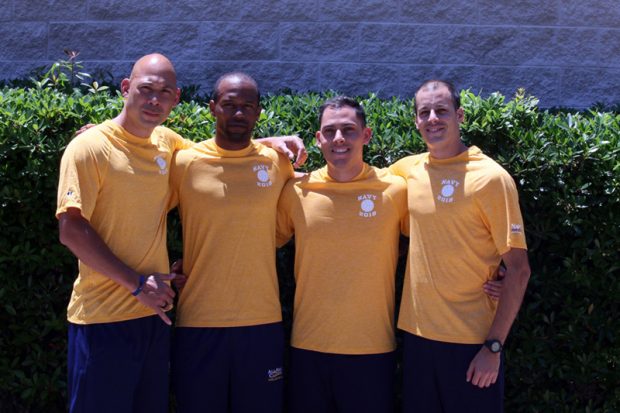 By Lt.Cmdr. Chad Murphy | U.S. Armed Forces Sports
HURLBURT FIELD, Fla. — As elite military volleyball players from around the U.S. armed forces competed for victory at the 2018 Armed Forces Volleyball Championship, they might not have known they shared the court with four live-saving U.S. Navy Sailors.
On the afternoon of May 5, All-Navy Volleyball players Chief Petty Officer Aniahau Desha from Hilo, Hawaii, Hospitalman Gaston Yescas from Tucson, Ariz., Petty Officer 1st Class Sheldon Lucius from Pearl City, Hawaii, and Petty Officer 3rd Class Joshua Essick from Harrisburg, Pa. risked themselves to save the lives of two teenage girls at Naval Station Mayport beach.
These sailors bravely responded to cries for help from beach goers stating that two people were in trouble 75 yards off shore. Understanding the peril at hand, these sailors entered rough surf conditions to retrieve the endangered swimmers.
"I was on the beach with my wife, and everyone showed up there, Josh, Sheldon, and Gaston. We'd just sat down, and some ladies came up the beach were yelling for help, seeing that the girls were out in the waves, needing help. They were in trouble, so we just ran into the water and got them," said Desha.
Upon reaching the teenagers, one of the girls was holding on to her unresponsive friend. Lucius pulled the conscious swimmer ashore, ensuring her safety, while Essick and the others carried the unresponsive swimmer up onto the beach.
"When we got on shore, as soon as I picked her up, I noticed that she wasn't breathing. It was obvious that she wasn't breathing. I checked for her pulse — there was no pulse. So we immediately started chest compressions and mouth-to-mouth," said Desha.
Desha and Yescas conducted CPR until emergency rescue personnel arrived on scene to relieve them.
"Since I'm a corpsman up to date with the CPR certifications and all, and I was also a lifeguard for eight years, this was honestly like a normal drill, I would say, because I've been in a lot of incidents likes this," said Yescas.
When asked about the Sailors' impact on the day's events, officials close to the story responded. "Two teenagers are alive today as a direct result of [these Sailors'] quick thinking, bravery and composure under extreme pressure," said All-Navy Men's Volleyball Coach Gilburto Bermudez.
First Coast Fire and Emergency Services Assistant Fire Chief Thomas Lyszkowski echoed the sentiment, saying the swimmer found unresponsive had been released from the hospital.
"Because of the actions of these Sailors, she's alive," he said.
"Those Sailors put others before themselves, and did so at great risk to their own safety," added First Coast Fire and Emergency Services Fire Chief Mark Brusoe.
Yescas said, "It makes me feel great to hear that she made it out alive. Her mom sent us a message on Facebook to let us know that she was getting discharged, and that her daughter was going to write us a letter and send us a picture just saying thank you for what we did."
"It's an amazing feeling knowing that this girl's going to see another day because of what we did. For the parents, especially, and as a parent myself, I couldn't imagine hearing the news that something happened to my daughter, and if someone was there to help, I'd like them to do the same for me if it was my child. So, I'm pretty honored," said Desha.
The All-Navy men's volleyball team went on to compete against the Army and Air Force teams at annual the AFVC through three days of round-robin competition, to eventually crown the best volleyball players in the military.
Comments
comments