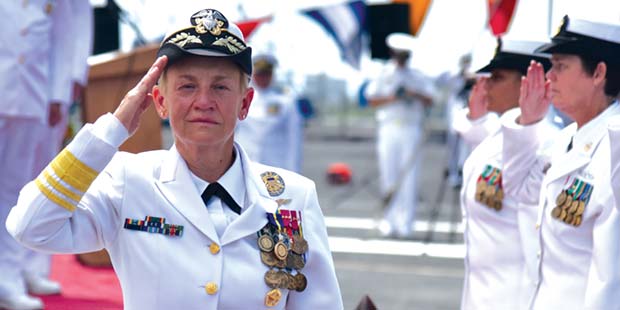 By Mass Communication Specialist Seaman Natalie Byers, U.S. 3rd Fleet Public Affairs
SAN DIEGO — Vice Adm. John D. Alexander relieved Vice Adm. Nora W. Tyson as commander of U.S. 3rd Fleet during a change of command and retirement ceremony held aboard the aircraft carrier U.S.S. Theodore Roosevelt at Naval Air Station North Island on Sept. 15.
During the ceremony, Tyson retired from active duty after 38 years of honorable naval service.
Commander of U.S. Pacific Fleet Adm. Scott H. Swift, who served as the ceremony's guest speaker, said that when Tyson was commissioned the opportunities available for women was much different.
"Women were not allowed to serve in combatant ships, and they'd only just been given the opportunity to serve on sea duty aboard support and auxiliary ships less than a year prior," Swift said. "But for those of us that know her well, Nora was never one to let apparent obstacles get in the way of success."
In July 2010, Tyson became the first woman to command a carrier strike group when she took control of the George H.W. Bush Strike Group, leading 13 ships, 80 combatant aircraft, and about 9,000 sailors, as the commander of Carrier Strike Group Two. She led the strike group on its maiden deployment where they conducted combat operations in support of Operations Enduring Freedom and New Dawn. When she assumed command of U.S. 3rd Fleet in July 2015, Tyson became the first woman to command an operational numbered fleet.
"She would tell you that she was simply the beneficiary of fortunate timing, but any who have had the privilege to work with and for Nora know that she has earned her position through her tireless work ethic, her outstanding leadership, her unwavering pride in service, and her love for Sailors. Without a doubt, she was the best person for the job," Swift said.
Under Tyson's command, 3rd Fleet's role expanded in the Pacific under the U.S. Pacific Fleet initiative Third Fleet Forward. Third Fleet Forward is an operational concept where 3rd Fleet maintains command and control of units throughout their deployment rather than transferring operational control to U.S. 7th Fleet once units cross the international date line.
Swift also presented Tyson with her second Distinguished Service Medal in recognition of her exceptional meritorious service to the United States Navy.
Tyson acknowledged the barriers she's broken and said that while she is proud to have been the first woman to command a carrier strike group and the first woman to command an operational numbered fleet, she is even more proud to be part of a Navy where those milestones are in the past.
"As leaders, we know we do not succeed on our own," Tyson said. "We are here because of the people who put their faith in us — the officers who pushed us beyond our comfort zones, the chiefs who molded us into naval officers, and perhaps most importantly, we are here because of all those incredible men and women we've been privileged to lead and mentor along the way — the sailors and officers who placed their trust in us to make the right decisions."
Alexander's most recent assignment was as director of Maritime Operations at U.S. Fleet Forces Command.
Comments
comments