Semper Feisty Radio
The folks at USMC Life.com have introduced a new radio show called Semper Feisty. The first show featured the First Lady of the Marine Corps' recommended reading list, Semper Fi Fund and the Marine Corps Marathon, nutrition books and Robyn Lawley, the new size 12 plus size model for Ralph Lauren. Show airs weekly on Thursdays at 10:30 a.m. PT. Tune in at www.blogtalkradio.com/usmclife.
---
Support Our Wounded Veterans
With your support, the USO and Hired Heroes USA will provide more than 60 career transition workshops for troops who've returned home from the war with injuries as well as the many other valued programs and services that help our troops around the world feel appreciated for all they are doing to protect our way of life. Visit www.USO.org for more information.
---

Bringing Our Troops Home for the Holidays
Jack Daniel's is honored to partner with the Armed Services YMCA (ASYMCA) of the USA on our Operation Ride Home campaign as we work to reunite our service members and their families during the holiday season. Visit www.jdoperationridehome.com for information.
We were very proud to kick off this year's campaign with a $100,000 donation, and we hope our friends will do what they can to help us in the effort.
The trained staff of the ASYMCA will work closely with military commands and committed volunteers in every branch of service to identify those service members and families in most need of financial assistance and to assist them with travel. Through travel vouchers for plane tickets and pre-paid debit cards for gas, lodging and food, we hope to surpass the overwhelming success of last year's.
Please visit www.asymca.org to learn more.
---
Gunny Pop Launches Line of Cigars; Proceeds Supporting Semper Fi Fund
Author and speaker Nick "Gunny Pop" Popaditch — the "Cigar Marine" — has launched a line of cigars with a portion of the proceeds going to support the Injured Marine Semper Fi Fund to honor his fellow military men and women.
In recognition of the Marine Corps Birthday, Nick unveiled his new cigar line. The first two premium hand-rolled cigars to be released under the "Cigar Marine" line are "The Gunny" (a double-wrapped Torpedo) and "The Tanker" (a mild spiced Rum).
"I am excited to stand behind a product that allows cigar smokers to celebrate in true Marine Corps style, and even more so to support a great organization that helps so many injured Marines and their families," said Nick "Gunny Pop" Popaditch. The cigars are available at www.artofcigars.com.
Nick's goal is to raise one million dollars for the Semper Fi Fund. The Injured Marine Semper Fi Fund is a 501(c)(3) nonprofit set up to provide immediate financial support for injured and critically ill members of the U.S. Armed Forces and their families.
---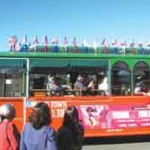 The San Diego County Veterans Day Parade 2012
This year's parade drew a crowd of 40,000 veterans and patriots. As the Honor Flight San Diego float pictured above made its way down the route, fans applauded and cheered bestowing upon our heroes many accolades of "Thank you for your service!"
Thanks to all the Honor Flight San Diego supporters and float sponsors.
Comments
comments