OUTLAW PLATOON: Heroes, Renegades, Infidels, and the Brotherhood of War in Afghanistan by Sean Parnell with John R. Bruning (William Morrow; On Sale February, 28, 2012; Hardcover; $26.99) may well be the most searing and unforgettable portrait of war and the bond between soldiers to come out of the conflict in the mountains of Afghanistan. It is Captain Parnell's gripping, personal account of the legendary U.S. Army's 10th Mountain Division's heroic stand––a vivid, action-packed, and highly emotional true story of enormous sacrifice and bravery that lands readers in the heat and smoke of combat.
At the age of 24, U.S. Army Ranger Sean Parnell was named commander of a forty-man elite infantry platoon, which came to be known as the Outlaws, and was tasked with rooting out Pakistan-based insurgents from a mountain valley along Afghanistan's eastern frontier. And they became one of the most feared American units in the war. What followed was sixteen months of close combat, over the course of which the platoon became Parnell's family. But the cost of battle was high: Over 80 percent were wounded in action putting their casualty rate among the highest since Gettysburg, and not all of them made it home. But perhaps the most remarkable fact is that although the Outlaws killed more than 350 insurgents, they did it without causing a single civilian casualty.
OUTLAW PLATOON is the story of those sixteen months; about how close combat reshaped the lives of Parnell and his men, and how the love and faith they found in one another kept them alive. Parnell also raises important questions about the integrity of the Afghan president, Hamid Karzai, the competence of the Afghan police, and the sincerity of our Pakistani allies. But most importantly, this is a story of brotherhood and war that has rarely been so acutely and realistically captured in either a memoir or a novel.
# # #
Sean Parnell is a former U.S. Army airborne ranger who served in the legendary 10th Mountain Division for six years, retiring as a captain. He received two Bronze Stars (one for valor) and a Purple Heart. He is currently working on his Ph.D. in clinical psychology at Duquesne University. He lives with his wife and two children in Pittsburgh, Pennsylvania.
John R. Bruning is the author or coauthor of fifteen nonfiction books, including the critically acclaimed Shadow of the Sword (with Jeremiah Workman) and House to House (with David Bellavia). To prepare for this book, he embedded with coalition forces in Afghanistan in 2010. He lives in Oregon with his wife and two children.
# # #
OUTLAW PLATOON:
Heroes, Renegades, Infidels, and the Brotherhood of War in Afghanistan
by Sean Parnell with John R. Bruning
William Morrow; On Sale February 28, 2012
Hardcover; ISBN: 978-0-06-206639-8; $26.99
Contact: Ben Bruton, 212-207-7524, ben.bruton@harpercollins.com
Rarely has a book of this kind been so enthusiastically embraced by both literary and commercial writers and experts. Please take the time to read the extraordinary early praise below.
"Outlaw Platoon is a detailed and utterly gripping account of what our soldiers endure on the front lines of America's war in Afghanistan––the frustrations, the fear, the loneliness, the nastiness, the occasional rage, the difficulties of finding and identifying an elusive enemy. Here, in these pages, are the on-the-ground realities of a war we so rarely witness on news broadcasts."
––Tim O'Brien, author of The Things They Carried
"Outlaw Platoon is an exceptional look into the mind of a U.S. Army platoon leader in Afghanistan; Captain Parnell shares his experiences of leadership, loss, and aggressive military tactics on the battlefield. It's a unique look at the inner workings of a combat platoon in Afghanistan and the forging of a cohesive fighting force out of a wildly diverse group of men under an exceptional leader. You can really feel the bonds forged between these brothers in arms as the battle plays out in the Hindu Kush. This is also a rare opportunity to get inside the mind of a young army officer thrust into the horrors of war, and officer who cares deeply about his mean and leads by example to achieve victory on the battlefield."
––Marcus Luttrell, bestselling author of Lone Survivor
"Two of the grittiest, most intense tales of courage and camaraderie under fire I own are Black
Hawk Down and Lone Survivor. I now have a third, Outlaw Platoon. It's Black Hawk Down for the 21st Century. And an absolutely gripping, edge-of-your-seat ride detailing the men of Outlaw Platoon and the day the fates foolishly attempted to stack the deck against them. This book has Hollywood blockbuster written all over it. There is much more to Outlaw Platoon than just its guns-blazing action. It is an epic tale of leadership, heroism, and the bond among warriors who ply their deadly trade with deceivingly simple mandate—to kill the enemy and return home together alive. An absolute must read!"
—Brad Thor, bestselling author of Full Black
"Outlaw Platoon put me back on the battlefield again. It's a heartfelt story that shows how very different people can be thrown together in combat and find a way to make it work. Parnell and the soldiers who fought beside him are all courageous heroes––real bad asses.
I really enjoyed the book.
––Chris Kyle, #1 bestselling author of American Sniper
"I just finished Outlaw Platoon and I'm filled with different emotions––confusion, sadness, wonderment, respect, a sense of having survived something harrowing. At times, I forgot I was reading about a war, or Afghanistan, but that I was drawn up in the drama in the same way you can be when reading Krakauer's Into Thin Air. This is a book of probing honesty, a book of wrenching drama and courage that one finds in reading something like Sebastian Junger's War or Karl Marlantes' novel Matterhorn. You'll read this book in two sittings."
––Doug Stanton, author of Horse Soldiers
"This is a story of genuine emotion and drama. It's been a long time since we've seen a narrative that so accurately describes the bravery, loyalty, and character of America's warrior sons. Sean Parnell and John Bruning's Outlaw Platoon is a soulful story of men at war, but more importantly, it shows us that the love and brotherhood forged in the fires of combat are the most formidable qualities a unit can possess. And that the maturation of a natural leader—Sean's own story—is one that we will never grow tired of reading. I can see many fascinated readers for this book—men and women, in the military and without, on the front lines and here at home."
—Steven Pressfield, author of Gates of Fire
"Lieutenant Sean Parnell is one of the few who knows the honor and courage that is the legacy of the battlefield. Outlaw Platoon is expertly told by a man who braved the heat of battle time and time again. An epic story as exacting as it is suspenseful, it reveals the bravery and dedication of our armed servicemen and women around the world."
—Clive Cussler
"Bravo! Outlaw Platoon is the real deal. It's a terrific tale of combat leadership that deserves to be studied by all small-unit leaders. The narrative goes beyond the battlefield to depict the maddening nature of the war and the grit of those who selflessly protect us."
—Bing West, author of No True Glory
"Sean Parnell reaches past the band-of-brothers theme to a place of brutal self-awareness, sometimes reminiscent of Terrence Malick's ethereal film adaptation of The Thin Red Line, James Jones's 1962 novel about the World War II battle for Guadalcanal. During one of his first encounters with the Taliban, Parnell is knocked unconscious by an explosion. When he awakens, he's surprised to see a monarch butterfly in the midst of his battlefield. Which is more insignificant he wonders, the insect or the broken man watching it? Parnell never flinches from a fight, nor the hard questions of a messy war."
—Kevin Sites, author of In the Hot Zone: One Man, One Year, Twenty Wars
"Sean Parnell is one of the most exciting new military writers to emerge from the front of the pack—literally from the frontlines in the war on terror—in a long time. His first-person description of high intensity combat in Afghanistan will leave the reader breathless."
—Maj. Gen. Paul E. Vallely, U.S. Army (Ret.), former FOX News military analyst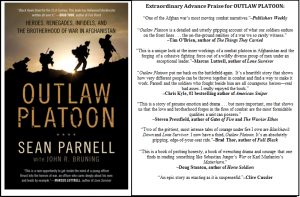 Comments
comments