The 2015 San Diego dining season returns January 18th. through the 24th., with its semi-annual Restaurant Week. Originally launched 18 years ago to spotlight San Diego's food scene, it has grown into a major city-wide and regional event. This year, throughout 12 regions in the county, over 200 restaurants and their chefs will create three-course, fixed price dinner menus in $20 to $50 categories. Two-course lunches are offered at $10, $15 and $20 price points. During last September's Restaurant Week, I visited three interesting La Jolla lunch spots.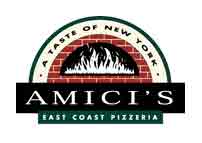 Amici's East Coast Pizzeria at $10 was quite a bargain. The meal included a crisp, fresh, anchovy laden (my request) Caesar salad followed by a delicious 7" roasted garlic and Italian sausage thin crust pizza, baked perfectly in their 700 degree brick oven. They have 13 locations around California and offer carry-out and delivery options.
Checking in at $15 was Iberico, a Spanish Bistro. Lunch on their upstairs patio included an outstanding traditional gazpacho, followed by a tasty flatbread with sautéed brandy mushrooms, garlic, fresh tomato and herbs. Treat yourself to their sangria with cava. The staff is friendly and attentive; the presentation exceptional.
My $20 choice was Seasons 52. If you are not familiar with the concept, the menu changes with the season. Each dish has 475 calories or less. Although it is a chain, currently in 38 states, it feels "local." For $20, one has a choice of appetizer, entree, side dish and dessert. For the starter, the blackened steak and blue cheese flatbread was a winner. Next up was the signature Angus burger with roasted tomato and a side of field greens; cooked perfectly and imaginatively served. Dessert was one of their signature "mini indulgences." It's not included, but order a flight of wines to accompany your meal. They have a remarkable wine selection and their own Master Sommelier (one of only 250 in the world).
San Diego Restaurant Week is a great way to sample signature dishes at discounted prices, try new places or reconnect with old favorites. For a complete list of participants and menus, logon to www.sandiegorestaurantweek.com. Also available is the San Diego Restaurant Week mobile app for Android or iPhone. Advanced reservations are advised.
Note: some of the restaurants will extend the promotion beyond January 24th.
Safe travels and happy New Year….
Howard Hian
www.Travels-with-Hian.com
Comments
comments