By Elise Cooper | October 15, 2018
Books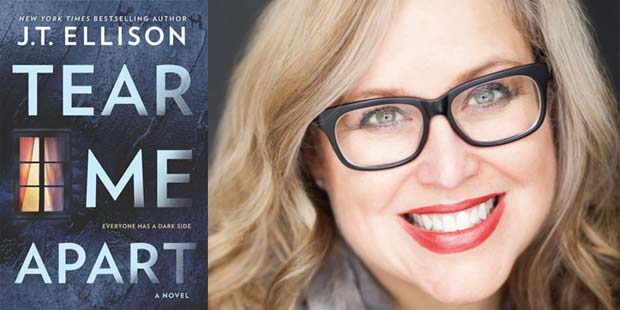 "Tear Me Apart" by J.T. Ellison is a "why done it" instead of a "who done it." She explores how one lie can build upon another as the resulting betrayal rips two families apart.
Originally known for her two series she has now switched to writing stand-alones. One series main character is Lt. Taylor Jackson, a Nashville homicide detective who hunts down serial killers. The other series featured Dr. Samantha Owen, a medical examiner who came into prominence as the conscience of the Taylor Jackson series and eventually morphed into her own series.
"Currently I will continue writing the stand-alones because the publisher loves them and they are doing better," Ellison said. "With that said, I have already started the Samantha book and will eventually get to it. But for now, I will continue to write these psychological thrillers."
While writing the series books, Ellison actually had an idea for this plot back in 2011.
"I had a guy at the funeral of his wife and baby. He dreamed of this little girl who became a professional ice skater," she said. "I then added layers including to have a story about committing suicide. I also had the letters originally as AOL chats, but after my mom read it, I changed the correspondence to letters. She did not know what an AOL chat was and I realized I would have a bunch of readers, both young and older, who would not know. Another change I made was to have Mindy as a professional skier, not a skater. I based her on Lindsey Vonn, someone who had made multiple comebacks from injuries. I think of her as an incredible hero."
This story begins with an Olympic downhill skier, Mindy Wright, crashing and severely breaking her leg. During the surgery, it's discovered she has leukemia and will eventually need a stem cell transplant. In need of a bone marrow transplant both her parents are tested, where it is discovered that they are not a genetic match to Mindy. Questions arise as to what happened: was she switched at birth or was there something more sinister, such as a baby farm? Her mother Lauren is hiding secrets, while her aunt Juliet is determined to find answers and a match to save Mindy's life. As the story unravels so does Lauren's life and mental state. She will go to almost any length to prevent people from knowing the truth about what happened.
Mindy is strong, determined, driven, and unemotional. "I wanted to write her as someone who takes control of every aspect of her life and mind. She is the 1 percent of the 1 percent of the 1 percent. She will do anything to achieve her goal, training very hard."
Her mother Lauren is someone who created a life for herself. Once she became a mother she made a loving life for her daughter Mindy. She is the direct opposite of her sister, Juliet. While growing up, Lauren was her mother's favorite, Juliet was the outsider. These siblings are eleven years apart but were thick as thieves. Although both are devastated by the diagnosis, Ellison explores how a parent would react in that situation, seeing a child suffer and unable to fix it. "I wanted to write the essence of what a parent does, trying to make everything better."
The plot examines the relationships between mothers and daughters as well as sisters. It sheds light on mental health problems and the terrible consequences that result when the emotional balance is neglected.
Comments
comments