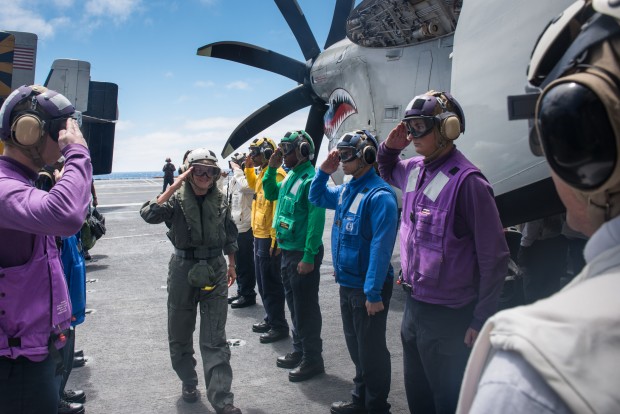 Story by Ensign Davis Anderson, USS John C. Stennis (CVN 74) Public Affairs
PACIFIC OCEAN – Vice Adm. Nora Tyson, walked through eight rainbow sideboys Aug. 12, exiting USS John C. Stennis' (CVN 74) flight deck and commencing her first visit to the ship as Commander, U.S. Third Fleet.
Tyson observed how the John C. Stennis Strike Group (JCSSG) crew was performing during Composite Training Unit Exercise/Joint Task Force Exercise (COMPTUEX/JTFEX), which when complete, will give her the data she needs to determine if they are deployment ready.
"My expectation for the … strike group is continue doing what she's doing and for every member of this strike group to do their job to the best of their ability," said Tyson. "John C. Stennis Strike Group is doing an incredible job."
One of the first stops on Tyson's tour was to an awards ceremony in the ship's training complex, where she pinned warfare devices on and presented awards to Stennis Sailors.
"I think if you're a team player and you take care of your shipmates and you do your job to the best of your ability, you're going to succeed," said Tyson. "I know that you're going to continue doing incredible things in the future just like you have in the recent past with DPIA [docking planned incremental availability], INSURV [Board of Inspection and Survery] and TSTA [tailored ship's training availability]."
Tyson added it is her responsibility to ensure all forces under her command are ready to do what America asks them to do.
"I'm not putting anybody or any ship or any platform in harm's way that is not 100 percent prepared to do their job," said Tyson.
The Stennis is scheduled to complete COMPTUEX/JTFEX later this month and earn the "deployment ready" certification.
For more news from USS John C. Stennis visit www.stennis.navy.mil or www.facebook.com/stennis74.
Comments
comments