This content is provided courtesy of USAA.
USAA named preferred credit card provider.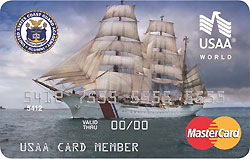 USAA Bank and the U.S. Coast Guard Academy Alumni Association joined forces to introduce a customized credit card for approximately 16,000 CGA alumni, faculty, students and family members.
USAA Bank now offers the Coast Guard Academy Alumni Association USAA Rewards™ World MasterCard® credit card to help support CGA Alumni programs and activities. USAA Bank will make a contribution to CGA Alumni with every new account opened and each time cardholders make an eligible purchase.
"The USCGA Alumni Association is pleased to team up with USAA Bank for our affinity card program," said Jim Sylvester, USCGA Alumni Association president and retired U.S. Coast Guard commander. "Alums, parents and friends using this card will know that it is backed by a bank they can trust, and that using the card will benefit the alumni association."
"USAA and the U.S. Coast Guard Academy Alumni Association share a common and proud military heritage, with similar core values and high standards," said John Townes III, USAA senior vice president of Military Affairs and retired Navy rear admiral. "We welcome aboard the USCGA Alumni Association. With this new relationship, USAA will continue its mission to support our military members and their families with products and services that are customized to their needs and situations."
In 2009, USAA opened its membership to all veterans who have honorably served and their eligible family members.
Learn more about the USAA and CGA Alumni credit card program.
About the Coast Guard Academy Alumni Association
The U.S. Coast Guard Academy Alumni Association was established in Washington, D.C., in 1887, and has operated as a nonprofit charitable and educational organization since 1972. The association is committed to improving the Academy experience, assisting with cadet recruitment, promoting fellowship among Alumni and members, and preserving the traditions and enhancing the reputation of the Academy.
Comments
comments