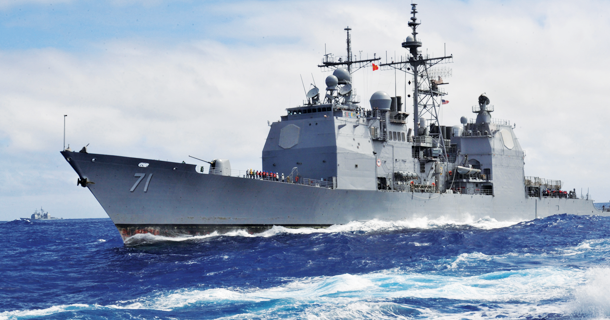 The Ticonderoga-class guided missile cruiser USS Cape St. George (CG 71) is scheduled to return to San Diego, Jan. 16 from an independent deployment to the Western Pacific Ocean.
During the deployment, Cape St. George and the "Blue Hawks" of Helicopter Maritime Strike Squadron (HSM) 78, Detachment 4 participated in Rim of the Pacific (RIMPAC) 2014 as part of U.S. 3rd Fleet.  Upon assignment to 7th Fleet, the crew of 350 personnel and two embarked helicopters conducted various presence operations and goodwill activities with partner nations and participated in two major exercises, Valiant Shield and Keen Sword.
"I cannot be prouder of the professionalism of my crew," said Cape St. George's Commanding Officer, Capt. Michael P. Doran.  "Every Sailor did an outstanding job this year especially during deployment. The ship excelled in every mission we were given because of their dedication and hard work."
The Blue Hawks flew 780 hours in support of anti-submarine warfare and surface warfare missions with two MH-60R aircraft, tracking both surface and subsurface contacts, as well as supporting Cape St. George's crew in training.
"Each and every one of our Sailors worked together as a team to tactically employ and maintain two MH-60R helicopters in the dynamic Indo-Asia-Pacific region," said Lt. Cmdr. Jeremiah N. Ragadio, officer in charge of HSM-78 Detachment 4. "We executed a diverse mission set to include surface warfare, anti-submarine warfare and vertical replenishments. This deployment exemplified Blue Hawk professionalism and showcased the versatility of the HSM community's combat capabilities."
The ship also participated in community relations projects in Singapore, Guam and South Korea.
Cape St. George is named for the battle fought in the South Pacific off the island of New Ireland in the Bismarck Archipelago on Nov. 25, 1943. HSM-78 was established March 1, 2012 at Naval Air Station North Island, Calif. as the Navy's newest MH-60R squadron.
Cape St. George provides deterrence, promotes peace and security, preserves freedom of the seas, and can provide humanitarian/disaster response when necessary.
U.S. 3rd Fleet leads naval forces in the Eastern Pacific from the West Coast of North America to the international date line and provides the realistic, relevant training necessary for an effective global Navy.
Comments
comments