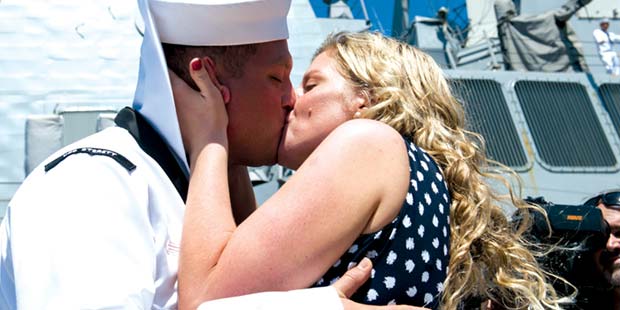 By Mass Communication Specialist 1st Class
Byron C. Linder
Sailors aboard Arleigh Burke-class guided-missile destroyer U.S.S. Sterett concluded a five-month deployment to the Indo-Asia-Pacific region, returning to the ship's homeport of San Diego, Aug. 28.
Sterett spent the majority of the deployment as part of the Sterett-Dewey Surface Action Group, the third deploying group operating under the command and control construct called 3rd Fleet Forward.
The Sterett-Dewey SAG departed from San Diego on March 31, bound for Joint Base Pearl Harbor-Hickam, Hawaii. Before the transit, Sterett welcomed aboard Rear Adm. Bill D. Byrne, Commander, Carrier Strike Group 11, and participated in the strike group's Composite Training Unit Exercise.
In Hawaii, the SAG sailors welcomed Adm. Scott Swift, U.S. Pacific Fleet commander, aboard Sterett. Swift welcomed them to "the leading edge" of the Pacific Fleet and emphasized the importance of the tasks ahead.
On April 14, Sterett departed Hawaii and sailed to the ship's first foreign port visit of Hong Kong, entering the South China Sea on April 28. One day later, Sterett arrived in Hong Kong, welcoming aboard multiple tour groups and conducting community outreach events at a special needs school and an elementary school.
Following Sterett's Hong Kong departure, the ship conducted the first joint operation of its deployment in the South China Sea with Japan Maritime Self-Defense Force ship JS Izumo. Over the course of two days, a liaison naval officer exchange allowed the two navies to gather more understanding of operational procedures aboard the respective vessels.
Sterett's next tasking in the South China Sea took the ship off the coast of Thailand on May 10 to support the annual Cooperative Afloat Readiness and Training multilateral exercise. Sterett hosted a presail conference, welcoming aboard naval leadership from Bangladesh, Republic of Singapore and Thailand. Sterett additionally participated in strengthening partnerships and increasing interoperability by conducting multilateral engagements at.
With CARAT concluded, Sterett transited to Changi, Republic of Singapore to participate in the International Maritime Defense Exhibition 2017, one of the largest maritime exhibitions in the Asia-Pacific region. Sterett sailors manned the rails to participate in a fleet review and welcomed aboard Chief of Naval Operations Adm. John Richardson before pulling into port, May 15. Once in port, Sterett conducted a community outreach event at a special needs school, hosted a series of shipboard tours for IMDEX 17 visitors, and welcomed aboard the deputy prime minister of Singapore.
Two days after leaving Singapore, Sterett anchored off the coast of Phuket, Thailand, on May 21 for a port visit. Before departing Thailand, Sterett welcomed aboard Capt. H.B. Le, commodore, Destroyer Squadron 7, and Royal Thai Navy leadership for the ship's participation in Exercise Guardian Sea 2017 in the Andaman Sea.
Sterett returned to Changi May 30 to conduct maintenance and refueling. Upon the visit's conclusion Sterett welcomed aboard members of the House Armed Services Committee who toured the ship and sat down to speak with sailors from their respective states.
Sterett then proceeded back to the South China Sea.
Following a series of operations, Sterett made a historic port visit to Zhanjiang, China, June 12. There, sailors conducted a sports day, ship tours, a community outreach event at a local special education school and a seamanship competition with their Chinese counterparts. Sterett also hosted a reception for Swift and People's Liberation Army Vice Adm. Wang Hai, commander of the PLAN South Sea Fleet. Upon Sterett's departure from Zhanjiang, the ship conducted a series of maritime maneuvers with People's Liberation Army frigate CNS Huangshan.
Sterett's next foreign port visit would be at Subic Bay, Republic of Philippines, June 18. Sailors conducted community outreach events at a school for the deaf and at a children's home. They departed Subic Bay June 23.
Sterett joined the Ronald Reagan Carrier Strike Group for a series of exercises. Sterett additionally welcomed aboard Rear Adm. Charles Williams, commander, Battle Force 7th Fleet, who announced that Sterett's scheduled return to homeport would be delayed by an additional 28 days to fulfill U.S. 7th Fleet's requirements.
Sterett next participated in Exercise Talisman Saber 17 under Combined Task Force 73, putting to practice the "Up-Gunned Expeditionary Strike Group" concept using cruiser and destroyer assets to protect the ESG against air threats while simultaneously strengthening interoperability in the U.S.-Australia alliance.
On July 23, Sterett conducted its final foreign port visit to Brisbane, Australia. Sailors participated in community outreach events at a facility servicing the disabled, a maritime museum, and a retirement home. Sterett then transited to Naval Base Guam, arriving Aug. 4 to conduct further maintenance.
Sterett's final port visit of deployment was at Joint Base Pearl Harbor-Hickam, Hawaii from Aug. 18-22, making final preparations for returning to San Diego and embarking 12 family members and friends, known as "Tigers," for the transit.
"I am extremely proud of the way Sterett sailors took every challenge, every schedule change, every last-minute tasking, and met it with skill and professionalism," said Cmdr. Claudine Caluori, Sterett's commanding officer. "We've done well in our mission, and we're very excited to be coming home to our families and friends in San Diego."
Comments
comments