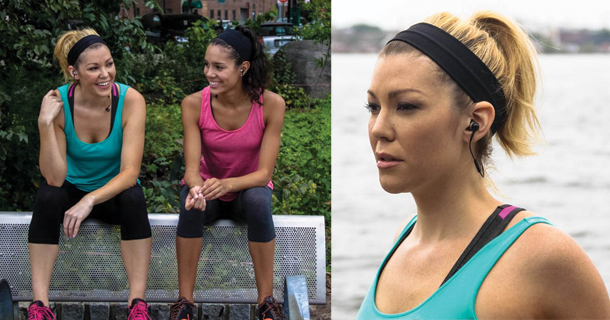 Surround yourself in crystal clear audio while living life fit with the innovative Bluetooth-enabled creations from 1 Voice.
Portable listening technology has come a long way from the days of the walkman, so why have headphones stayed trapped in the Stone Age? Inspired by  the ever-growing use of earbuds during exercise, recreation, and even one's commute, 1 Voice decided the market was due for an overhaul. Their 1 Voice Headband offers wearers a tangle-free, snag-free listening experience when it's time to hit the course, pound the pavement, or get in one last yoga pose.
With the 1 Voice Headband, fitness minded enthusiasts are discovering a whole new way to get psyched for their work out. Each sleek sports headband hooks up wirelessly to any Bluetooth-enabled phone or music player to deliver quality sound cord-free. Now they can pump some iron, hit the slopes, and go for a run without knotted cables tripping them up or breaking their form.
To use, wearers simply sync their devices, slip on the headband, and put in its discreet earbuds. The earbuds are made with a silicon gel sleeve for added comfort and passive noise isolation that takes one's playlist to the next level, while its enhanced performance fabric wicks away sweat and keeps its wearer cool. It even includes a built-in microphone so urgent calls can be taken care of while on-the-go.
Since its launch in 2013, 1 Voice has taken apparel functionality to the next level. Its founder Girish Karnani had spent 12 years focused on apparel brand managing and planning when he realized the time was right to usher in a new generation of modern apparel. His decision to combine the comfort and durability of the everyday accessory with the latest technology resulted in 1 Voice–a brand dedicated to providing the highest quality sound possible without sacrificing style.
Comments
comments