What is style? What makes a person a "style icon?" Webster's dictionary defines "style" as: characteristic manner of expansion, design, in any art form or period, excellence of artistic expression, fashion or something stylist. Stylish is conforming to current style as in dress… fashion. A stylist is a worker who has a distinctive style and works in the business of style, entertainment or custom.
I've always admired the fashion styles of Cher, Beyonce, Halle Berry, Jessica Simpson, Nichole Richie, Justin Timberlake, Usher, the Beckham's (husband and wife) and I love the fashion style of our lovely first lady, Michelle Obama. Or should I say, "I love the fashion style of whoever the 'stylist' is for the aforementioned?" I'm pretty sure that everyone that I mentioned previously does have some say on what they wear; as a matter of fact several of them have their own fashion line, perfume or both in several cases.
Or at the very least have licensed their names to a fashion label.
As I'm writing this piece, I'm reminded about all the red carpets of this year, the styles that stood out, the styles that flopped, the fashion malfunctions and the flashes of other things that nobody wants or needs to see… geez!!
Recently Kate Middleton announced that she's having a baby. While we are all very excited for her I can't help but wonder how her pregnancy will put a big spotlight on maternity wear. It's a well-known fact that lots of maternity wear can be somewhat "frumpy" at best. Several well known designers have already gone on record pronouncing that they'd love to dress her. It's a definite career boost to any designer that is afforded that opportunity.
My personal fashion style has always been more traditional. I love the iconic styles of all the designers that are considered "pioneers" in the industry — Coco Chanel, Diane Von Furstenberg, Oscar del la Renta, etc. Old Hollywood glamour and turn of the century fashion, hairstyles, and jewelry has always been favorites of mine. Coco Chanel's life was recently done by Lifetime. I'd love to see more of that highlighted. How about it Style Network?
Edith Head for example was yet another amazing icon of style, her costume design was in a word… simply elegant… or was that two words? She's the only woman to date to win a record eight Oscars for her craft of costume design, fashion and style. The next time you find yourself watching a black and white movie from back in the '40s to '60s, check out the fashions and notice how what was old is now still considered "in style," "stylish" and "fashionable."
Until next time, as always stay fashionable my Veteran Fashionistas!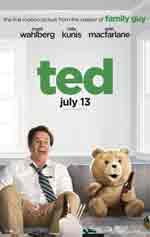 GIVEAWAY:
Email me and tell me about your childhood teddy bear and why you loved it for your chance to win your copy of "Ted."
"The creator of Family Guy delivers his signature, boundary-pushing humor in the outrageous comedy blockbuster about a grown man and his lovably profane, talking teddy bear that critics are calling, "one of the funniest movies of all time!" Starring Mark Wahlberg, Mila Kunis and Seth MacFarlane, Ted is the must-own comedy of the year. Own the Unrated Blu-ray™ Combo Pack now, stuffed with even more hilarious moments not shown in theaters!
Comments
comments